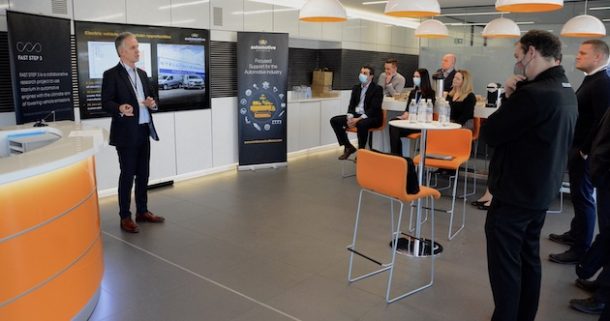 NAA Event Review: Modern Materials for the Automotive Industry, McLaren, Sheffield
The NAA's first factory networking for over two years was at McLaren in Sheffield, where visitors learnt about the manufacturing of composite components for McLaren sports cars as well as hearing about the NAA's FAST STEP 3 titanium project.
We arrived bright and early at McLaren for a full day of activity. This was our first factory networking for over two years and the very first one for Paul Jones since becoming CEO two years ago – so exciting times! For everyone's health and safety we held two events, one in the morning and one in the afternoon; both were full and in total we had 36 attendees across the two sessions, and everyone loved the opportunity to be there, talk to 'real' people and see real machinery and components.
The visit was superb, we saw insights to automotive manufacturing of composite components for McLaren's sports cars and marvelled at the use of technologies used in the facility. The hosts were very knowledgeable, and we would like to thank Wes Jacklin, Joe Elford and Alex Roberts for answering all our questions and sharing with us some of the challenges that they have faced in the build and start-up of the plant to its current operational state.
Wes and Joe shared more information on the history of the plant and McLaren cars, which combined with a real car outside had everyone excited to have their photos taken.
The theme of the meeting was 'Modern Materials for the Automotive Industry' and enabled dissemination of one of the projects that has had the benefit of NAA participation during the last three and a half years, FAST STEP 3. Carol Holden and Prof Martin Jackson of the University of Sheffield spoke about the concept of the project and the progress made to date, including videos to help explain the process of Field Assisted Sintering Technique (FAST) to others.
The project takes waste titanium and recycles it into 'as new' components for a cost that is comparable to equivalent steel components. As part of the project and to demonstrate capability of both the process and the material, four titanium components have been produced; three of them are engine-related components (valve retainer, piston pin and con-rod) and one aerospace component. The project is coming to a close and has been very successful; anyone interested in understanding more about the project should contact either Carol Holden or Paul Jones.
Our thanks go to Wes, the Chair of the NAA, Lisa Buist and everyone at McLaren for such a well organised event and the opportunity to see this excellent new automotive facility in the North of England.
If you missed out on the opportunity to attend the meeting, keep your eyes peeled on our events emails as we're hoping to hold another meeting at McLaren in the not-too-distant future.