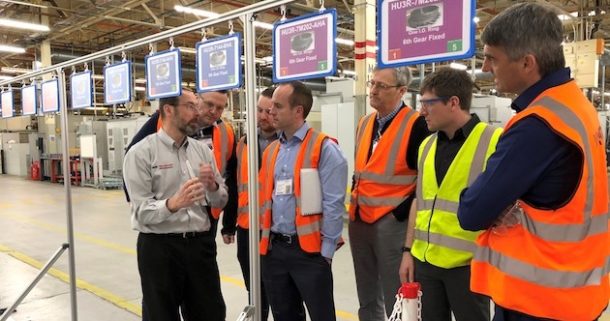 NAA Event Review: NAA Deep Dive Workshop – Utilising Machine Available Data
In the first of our focused Deep Dive Workshops, delegates were immersed in all aspects of Machine Production Data Collection and Analysis…
Hosted by Getrag, Ford Transmissions, Halewood (GFT), on 17 April 2018, the workshop outlined why GFT collects data and how it uses the data it collects to measure the key metrics it works to. Simon Smith, Maintenance Manager at GFT, shared some of the advantages that have been realised through using machine available data but also outlined some of the challenges of the data capture and analysis.
Simon also shared the GFT set up in Halewood and used live data to show the different ways of connecting the machines to facilitate data transfer, and Kev Lowe of K-Tech shared the intricacies of the system set up to capture the relevant data. This was followed by a shop floor walk and Halewood System Demonstration, including Halewood MDA and Halewood Data Warehouse.
With data capture and analysis already implemented across GFT's Halewood Plant, Simon also outlined further opportunities that it can bring: predictive maintenance, monitoring machine maintenance, energy metering and shutdown monitoring are all being enhanced by their data capture and analysis.
Delegates shared their experiences of data management and there was a lot of lively discussion as best practice was shared and issues identified.
Presentation Links
Machine Data Connection Overview
With 80% of the machines in GFT Halewood having Siemens interfaces, Siemens also gave a presentation on models of implementation to support all companies from SMEs to OEMs and large manufacturers.
With thanks to Simon Smith (GFT), Kev Lowe, (K-Tech) and David Sutcliffe and Andy Williams (Siemens).
They have set the bar very high and we are now looking forward to our next Deep Dive Workshop on Manual Handling to be held at Pirelli Tyres on Tuesday 9 July.