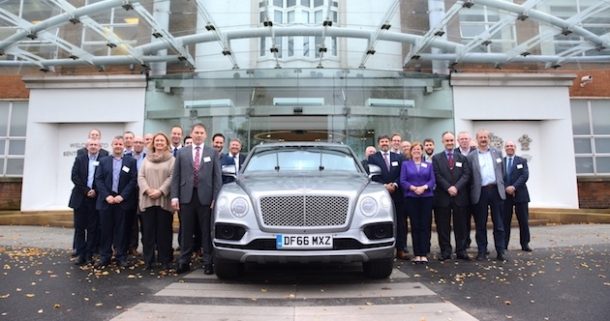 NAA Event Review: NAA visit to Bentley, 24 October 17
One of the unique benefits of NAA membership is the opportunity to take advantage of behind the scenes tours at automotive manufacturing sites, and the NAA's recent visit to Bentley Motors is an example of such a 'money can't buy' visit…
Stephen Davies, Head of Production Planning, gave NAA members a presentation about Bentley, which was founded in 1919, and is therefore due to celebrate its 100 year anniversary in 2019 – just over 12 months from now. The current factory dates back to 1938.
Stephen explained that with sales of around 11,000 vehicles each year, an ongoing factory expansion is underway, along with a growth in jobs, and a new Research and Development Centre is currently being built at the Crewe site, which is excellent news for the Northern automotive industry.
Bentley has four product lines, the Flying Spur, Mulsanne, Bentayga and the Continental GT, with the build of the brand new Continental GT model currently underway in the factory. The brand has dealerships in 59 countries.
The Crewe factory is a Volkswagen Group Centre of Excellence for W12 engines, paint, wood and leather. Bentley is the biggest manufacturer of 12-cylinder engines in the world, and the Mulsanne engine can trace its roots back 60 years.
Buyers of Bentleys can choose between a range of 65 'standard' colours – although 'special' colours can also be requested – and there are a staggering 17 million different instrument panel combinations.
One particular area that sets Bentley apart is the unique skill of the company's workforce in wood and leather. With each vehicle requiring 13-47 hours of attention in the wood shop, it's perhaps no surprise that it takes 350 hours to hand-build a Mulsanne. Stephen noted that the production of the rotating display in the new Continental GT was one of his current areas of focus.
NAA members were given a tour of the Bentley factory, seeing first-hand the production process from body in white, through specialist areas such as leather, to final inspection.
The event at Bentley also featured presentations from two recent NAA member companies. Cliff Kirby from CAL International explained how the design, development and engineering company can take a product from concept to production. Chris Black, Global Business Development Director at TR Fastenings, gave an overview of the company, which has an annual output of over 8 billion parts, most for the OEM Tier 1 market, with the automotive division of the business specialising in supplying approved parts for global platforms.