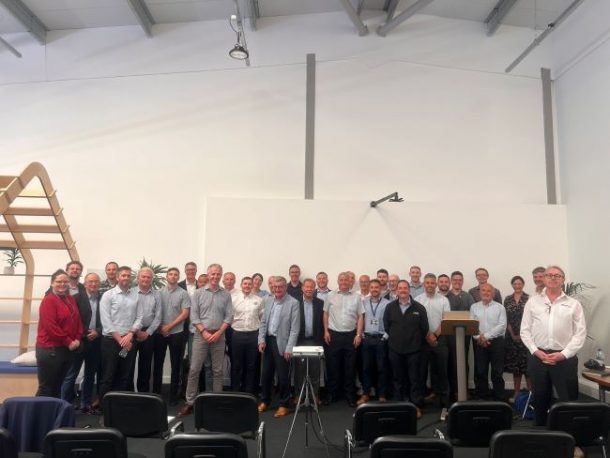 NAA Event Review: Sigmatex
Last month saw NAA members visit Sigmatex at its Runcorn facility, where we were superbly hosted by Dr. Gerard Turk, Strategic Project Manager and NAA Advisory Board Member, together with the Sigmatex team, in its very impressive new collaboration working space.
Steven Powell, European Commercial Manager, provided an overview of the Sigmatex Group, together with its key activities, products and markets.
For well over 30 years, Sigmatex has been a pioneer in the design, development and manufacture of carbon fibre textiles to the composites industry. By achieving excellence in innovation, service level, quality and trust, Sigmatex is driven to be the first-choice partner in high performance carbon fibre textiles. With the widest array of conversion technologies available, coupled with an unrivalled range of carbon fibre grades, including recycled materials, its innovative, customised carbon textile solutions are truly designed for performance.
Participants were given an overview of the following fabrics and their respective applications:
Woven fabric constructions such as plain, twill and satin weave patterns, as well as more complex designs for visual and performance applications.
Multiaxial Non-Crimp Fabrics (NCF) integrate advanced fibre spreading techniques, high conversion speed, adjustable angle laying heads and the capability to manufacture multi-layer fabrics at variable widths, with typical applications including automotive components, aerospace structures and marine vessels.
Spread tow fabrics – very thin, ultra-lightweight, have near zero crimp and fewer interlacing points. As well as being aesthetically pleasing, this technology has improved mechanical performance at a reduced thickness and cost when compared to standard 2D fabrics using 1k fibres. Typical applications range from high-performance sporting goods, motorsport and automotive structures, through to space rockets and UAVs.
Flat tow carbon fabrics benefit from light area weight, high closure level and a flat structure. Designed using proprietary weaving technology that enables the inline spreading of both the warp and weft tow bundles, the end result is cosmetically attractive, consistent and offers improved process-ability due to its closure level. Applications include advanced structural parts in Aerospace, Space, UAV and Automotive sectors.
Utilising carbon fibres in just a single direction, unidirectional fabrics are produced in a wide range of weights with a variety of stabilising methods such as stitching, thermoplastic and scaffolding yarns. This technology is mainly used in the wind energy sector but is also increasingly being used in automotive applications, where localised reinforcement in a specific direction is beneficial. Applications include infrastructure repair, marine, wind blades and Automotive parts such as battery enclosures and chassis reinforcement.
Recycled fabrics utilise Sigmatex's own internal production waste as well as that of its customers and suppliers, to convert these discontinuous lengths of fibre (typically 50-75mm in length) into a non-woven conformable mat. The approach is highly energy efficient and provides one of the most environmentally friendly recycled products available on the market.
Finally, participants were given a tour of the working production area, where they were able to experience first-hand the above range of carbon-fibre products during their manufacturing stage.