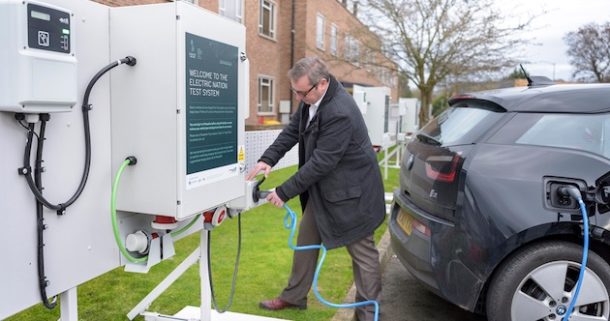 NAA Member Company Profile: EA Technology
The automotive industry is at a point where it needs to work with a range of other sectors, including the energy industry due to the increasing rate of the electrification of vehicles. EA Technology is regarded as one of the leading sources of expertise regarding the impact that EVs have on electricity networks…
EA Technology is currently delivering the Electric Nation project on behalf of Western Power Distribution. As the numbers of electric vehicles increase, if clusters of EVs are charged at peak times, research from EA Technology's previous 'My Electric Avenue' project has shown that some local electricity networks may need reinforcement. Smart charging could help to delay or avoid costly infrastructure upgrades by facilitating demand management. For example, if an EV is plugged in at a home from 6pm to 6am, then the charging could be moved away from the peak period by a short period such as 10 minutes within the overall 12 hour window. The Electric Nation project is trialling smart charging, to see if the system works, and to learn more about customers' reactions to it.
Electric Nation is seeking to recruit 500-700 EV drivers, each of whom receive a free electric vehicle home smart charger. Project recruitment is well ahead of schedule, to the extent that all places are very nearly filled. Fellow NAA member Automotive Comms is directing the marketing and communication for the project.
Electric Nation had a stand at the Cenex Low Carbon Vehicle (LCV2017) event. Traditionally an event for the low carbon automotive community, the Electric Nation team gave a presentation about initial findings from the project, and the stand was extremely busy, showing that the automotive industry now recognises the importance of the view from the energy sector as it brings increasing numbers of plug-in vehicles to market.
EA Technology is now working as a bridge between the automotive and utilities sector. It has several network clients who are keen to establish strategic partnerships and projects with OEMs such as Bentley, JLR and Vauxhall.
Electric vehicles and the grid is a particular area of EA Technology's knowledge that may be of interest to other NAA members, however this is just one example of the company's expertise.
EA Technology originated in 1966 as a groundbreaking research and development organisation serving the electricity industry. Today the company is a world leader in products and services which enhance the performance, reliability, safety and cost-efficiency of power networks.
Its customers include companies involved in electricity transmission, distribution and generation, together with private companies that operate power networks – such as operators of electrical assets in manufacturing (which of course includes automotive), transport infrastructure, process engineering, petrochemicals, defence, mining, and health.
Headquartered in the UK, the company's operations and customers are global, with seven regional offices around the world.
EA Technology works with many clients on a long-term basis to safeguard their power networks. The company can advise on strategy and implementation solutions using a range of products, providing an ongoing service to ensure the reliability of equipment. EA Technology's software helps its customers to manage their assets to achieve maximum life and reduce costs.
Find out more about EA Technology at www.eatechnology.com
Contact: Gill Nowell, email: Gill.Nowell@eatechnology.com