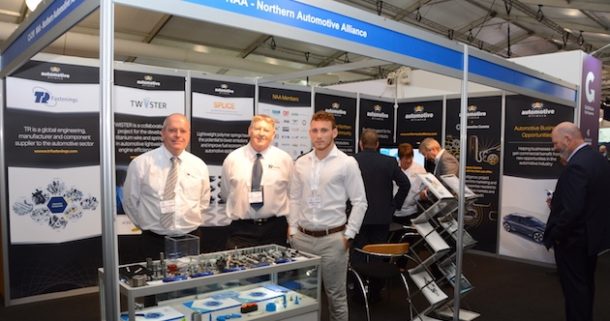 NAA Member Company Profile: TR Fastenings
Global fastenings manufacturer and distributor TR Fastenings (TR) took advantage of participating on the NAA stand at the Cenex Low Carbon Vehicle (LCV2017) Event at Millbrook Proving Ground, promoting its lightweighting solutions…
From its UK operations premises in Newton Aycliffe, Manchester, Midlands and from its Uckfield HQ, TR supports a large number of Tier 1 and Tier 2 automotive manufacturers. It provides a comprehensive range of industrial fasteners, C class components and provides an end2end service.
TR is part of a global group producing over 8 billion parts per annum  supplying customers from 27 locations worldwide and supported by 8 TR Manufacturing plants, ensuring it manages global platforms as required seamlessly.
The purpose of attending the LCV event and being members of the NAA is to raise TR's profile amongst the Tier 1s in the UK and Europe, emphasising its global manufacturing capabilities and product range, and to forge new connections.
TR's NAA membership will play a crucial role in how it raises and maintains its profile and Chris Black, Global Director of Automotive Business Development, says "I am really looking forward to returning to the event, which is a fantastic showcase for the industry, in 2018. The North continues to make a vital contribution to automotive success both in the UK and globally, and we are thrilled to be part of that process."
TR's global footprint enables it to support the requirements of multinational OEM and Tier 1 customers and with its new Global TR website which is designed to be the go-to place for engineers, designers and buyers to view over 50,000 products offering 2D/3D and fastener technical information.
Established in 1973, TR Fastenings is the trading business of Trifast Plc, a leading international specialist in the engineering, manufacturing and distribution of a comprehensive range of high quality industrial fastenings and assembly products primarily for the Automotive, Electronic and Technology, Domestic Appliance, Distributors and Industrial Sectors. Its own brand products include rivet bushes, self-clinch fasteners, screws for plastic, blind rivet nuts, self-locking nuts, security fasteners, plastic fasteners, cable management products and our new range of enclosure hardware.
Worldwide operations span the UK (Uckfield, Poole, Birmingham, Manchester, Newton Aycliffe, Belfast and Scotland), Europe (Ireland, Netherlands, Norway, Sweden, Hungary, Poland, Italy, Germany and Spain) and Asia (Thailand, Singapore, Malaysia, China, Taiwan and India).