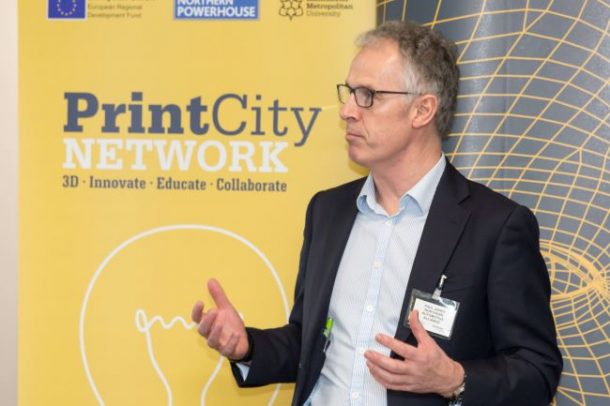 NAA Member Event Review: Manchester Metropolitan University's PrintCity Network Showcase
Industry leaders, small business owners, academics and the NAA came together on Wednesday 16 February to celebrate the one-year anniversary of Manchester Metropolitan University's PrintCity Network.
With a focus on sustainability and the opportunities 3D printing can offer businesses, over 60 guests at the Showcase heard from industry leaders, including Professor Juergen Maier CBE, NAA CEO Paul Jones and Donna Edwards.
PrintCity Network is a programme of practical workshops for Greater Manchester-based small to medium-sized businesses (SMEs). Sessions are held at PrintCity, Manchester Metropolitan's hub of additive and digital manufacturing. The specialist facility features over 40 machines, with more than seven types of digital printing technologies.
PrintCity Network's workshops are designed to help business owners develop an understanding and knowledge of the latest additive manufacturing (3D printing) technologies and processes.
Through the sessions, business owners explore market trends and identify how they can use 3D printing to create new products and processes in their businesses. Funded by the European Regional Development Fund, the workshops are offered at no cost to SMEs meeting the eligibility criteria.
Professor Juergen Maier CBE opened the Showcase with an address on Greater Manchester's 4th Industrial Revolution and the integral role of 3D printing, whilst Paul Jones reflected on the challenges affecting the automotive sector.
The Haberdashery Co. and Novus Health Technologies, two SMEs who have completed the PrintCity Network workshops, spoke about the innovative products they are currently developing with the help of the team at Manchester Metropolitan's PrintCity.
During the event, guests were able to tour the space and see the printing equipment in action. Live demonstrations included 3D printing concrete, and the technical team using specialist hand-held scanners to create 3D models of guests' heads!
To find out more about PrintCity, the PrintCity Network workshops, and upcoming events, please visit:
Explore PrintCity Network: https://www.mmu.ac.uk/business-school/business/sme-support/printcity-network/?utm_source=email&utm_medium=newsletter&utm_campaign=BPE-Feb2022-PCN-Showcase&utm_term=&utm_content=NAA