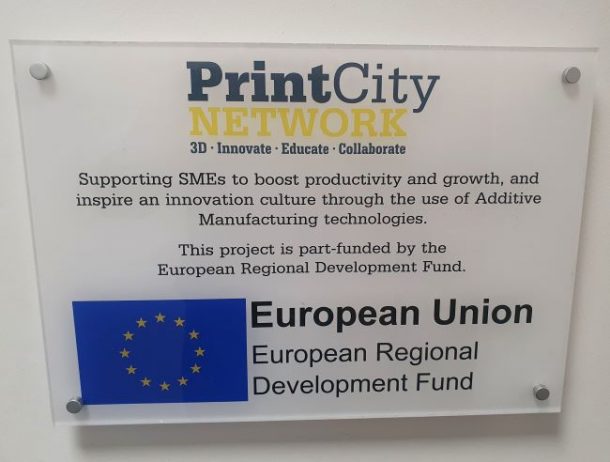 NAA Member Event: Using 3D printing & artificial intelligence to produce lightweight components, 5 & 12 April 2022, Manchester Metropolitan University
Additive manufacturing is one of the most exciting, emerging technologies of the 21st Century and Manchester Met is at the forefront of making this technology accessible to businesses by helping them understand how to use and benefit from its application.
One of the key application areas is to redesign components, using 3D printing and artificial intelligence, so that less materials are used, making components lighter. This is critical for organisations in the aerospace or electric vehicle supply chain where weight is a critical factor.
The PrintCity Network and Eco-I NW projects are funded by the European Regional Development Fund (ERDF) and represent partnerships between the Business School's Centre for Enterprise and Science & Engineering's PrintCity team. The projects give North West based SMEs access to both expertise and state-of-the-art additive manufacturing equipment.
In March, Manchester Met is holding a 2-day interactive workshop specifically aimed at the needs of businesses that need to make lightweight components or utilise 3D printing in the automotive sector.
Key content will include:
– The principles of new product innovation
– Introduction to additive manufacturing/3D printing and the benefits of the technology
– An overview of the types of printers and the pros and cons of each technology
– Introduction to generative design and how it can be used to design lightweight components using artificial intelligence
– Utilising 3D Scanning to create bespoke components
– Capturing, reverse engineering and optimising legacy parts
The sessions are delivered at Manchester Met's Print City facility at Turing House in Manchester:
• Tuesday 5th April, 10:00-16:00 (lunch provided)
• Tuesday 12th April, 10:00-16:00 (lunch provided)
The sessions are also available to attend online if you are unable to attend in person.
To be eligible for this, at no cost to your business, you must be an SME operating in Greater Manchester (PrintCity Network) or the wider North West region (Eco-I NW).
Register your interest by emailing Jamie Farrar-Armiger at J.Farrar-Armiger@mmu.ac.uk