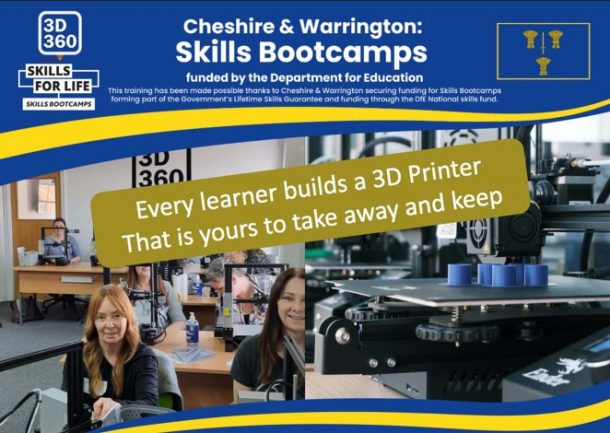 NAA Member News: 3D360 Skills Bootcamps
NAA Member 3D360 has been chosen to deliver the new Department for Education-backed Skills Bootcamps in Cheshire, GMCA and Cumbria (Lancashire and Merseyside should come online in April 23).
The 3D360 DfE Skills Bootcamps cover 3D Printing; 3D CAD, Digital Manufacturing and Industry 4.0.
The courses consist of 11 modules which make up a total of 66 hours of trainer lead learning which is split up over a flexible 16-week programme.
Industry 4.0 Course
Our Industry 4.0 course is an amazing online delivered course that covers all aspects of digital manufacturing including IoT, AI, VR, AR, cyber security, big data, digital twinning, robotics, EVs, autonomous vehicles, 3D printing, 3D CAD, FE, rendering, 3D scanning and much more.
This course is ideal for engineers, graduates, senior apprentices, project managers etc.
Intro to 3D Printing & 3D CAD
Our Intro to 3D Printing & 3D CAD focuses on Additive Manufacturing and design and is a mix of 6 online trainer lead modules and 5 classroom delivered practical sessions.
This course includes a free 3D printer for every learner
5 Days of Practical Learning
All delegates attend a 3-day 3D Printer build session where they build a Creality Ender 3 which is theirs to keep on completing the course. The course also teaches the delegates how to calibrate, maintain, upgrade, where to find free downloads and convert 3D models using Cura slicing software.
Delegates also attend a 2-day Fusion 360 3D CAD workshop which teaches the fundamentals of 3D CAD which enables them to design and 3D print.
Courses are funded / subsidised by the DfE and the cost varies dependent on delegate circumstances and region.
Unemployed & Self Employed – All courses are free and 100% funded
SMEs with under 250 employees are 90% funded (Cumbria – £250, GMCA £300 & Cheshire £360)
OEMs with over 250 employees are 70% funded (Cumbria – £750, GMCA £900 & Cheshire £1080)
GMCA 100% ESF Funded Training
• Are you employed?
• Over 16?
• Live or work in GMCA?
• Want a Free 3-day course and Free 3D Printer?
Since Nov 2021, 3D360 has trained over 470 people under our Serco backed and ESF 100% funded GMCA Digital Careers Upskilling Programme (DCUP).
All training is delivered from our in-house training facility in Leigh, near Wigan, and we even provide lunch for every delegate.
(Outreach training at a customer's facility is available for groups of more than 8 delegates)
Our 3-day printer build course is fully funded and every delegate gets to build and keep an Ender 3, 3D printer.
3D360 funds the cost of the printer and over 150 of the training and printers have gone into schools within the GMCA.
Funding is available until the end of March. There is a potential extension until June but nothing is official at this time, so please take advantage of this amazing training opportunity before it is too late.
"Too good to be true" is a phase we hear all the time, but 470 people and counting will tell you otherwise.
For course details & available training dates email 3D 360 on training@3d360printer.co.uk
Or call our training team on 01942 901 360