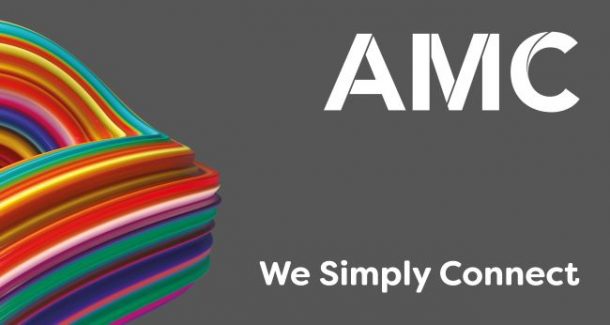 NAA Member News: AMC has rebranded
AMC has rebranded and is making significant plans to cement itself as the UK leading copper cable manufacturer.
Two years ago, AMC underwent an acquisition by a major investment group – this has led to a renewed drive to continue to grow the business at an increased rate. Whilst various strategic growth opportunities have been identified, a new managing director was recruited in 2021, Brent Collins. With Brent's experience working with the likes of Rolls Royce, AMC now has the leadership and investment to take the company to ever increasing heights.
The rebranding of Auto Marine Cables to AMC is not just a change of visual tone and marketing 'noise'; it represents an intention to deliver the highest quality product and service to its loyal UK, and international customer base. AMC is not just a manufacturer, it is a company that offers solutions; through developing strong supplier and customer partnerships, AMC works with its partners to deliver strategic operational and commercial agreements, backed up with its UK manufactured, high quality product.
There's not just a visual change, but a change in tone from the logo and tag lines, through to the web site, social network posts and more. AMC, "We Simply Connect" is basic but representative of not just offering connectivity through product, but through strategic b2b relationships. AMC's other tagline "The Connections Group", is indicative of distribution partnerships with the likes of MTA, VTE, and most recently Victron.
A quote from AMC's managing director Brent shows where the company is headed, "quite simply AMC is, and will continue to be, World Class at Basics. This quite simply means that through good strategic relationships, underpinned by quality product, and fantastic people, AMC will deliver to its customer top quality service. Cable is not just a commodity product, it is a catalyst for connectivity, which AMC represents."
AMC recently became an international distributor for Victron Energy, this partnership is ideal, as the highest quality in power management has a true synergy with the highest quality in cable interconnecting their product. This leads AMC into delivering customers a full energy management solution, complementing the difficulties and challenges faced by both auto and marine installers/modifiers.
AMC is the sponsor for sailor, Christian Kargl, who will be competing in the single manned Mini Transat yacht race. This is a trans-Atlantic race throughout September – AMC decided to support Christian as he has worked with AMC product for several years, kitting out his yacht with galvanised Ocean Flex cable. Connect with AMC via LinkedIn to keep up to date with the race.
As well as AMC's connection with the NAA, the company is also a member of the AVI (Association of Vehicle Installers) – and will be supporting their installer education series on best practices for use and specification of cable in the auto sector.
With AMC's increasing product range, improvement to branding and online presence, and striving to further develop relationships with customers, AMC encourages the community to connect and work together to offer efficient, high quality product and service.
In today's economic climate it is easy to lose sight of what truly matters, high quality product underpinned by reliable service.
Connect with AMC on LinkedIn and visit the website at www.automarinecables.co.uk to find out more.