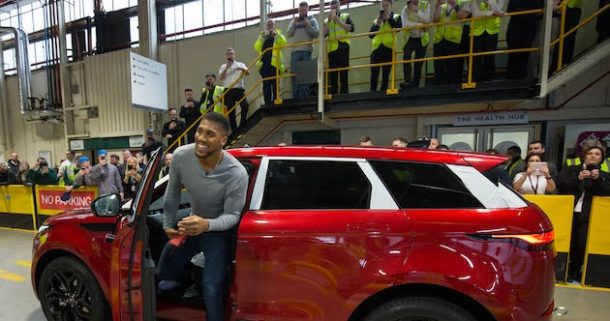 NAA Member News: Anthony Joshua, Triple Heavyweight Champ, visits JLR Halewood
Boxing superstar, Anthony Joshua, proved he can pull off a knockout performance outside the ring as he surprised workers at the Jaguar Land Rover plant in Merseyside…
The triple heavyweight champ who holds the WBO, WBA and IBF titles swapped his gloves for gearboxes as he dropped in on the men and women in charge of building the next generation Range Rover Evoque at Halewood.
Keen to get his hands dirty, AJ wasted no time in getting stuck in with jobs on the shopfloor and helped workers put the finishing touches to the luxury cars as they were driven off the production line.
He also squared up against an unusual new opponent going fist to fist with one of the new robots recently installed at the factory to build the new Evoque – called a Cobot.
Finally, with his next big fight around the corner, AJ managed to get some training under his belt by taking part in some sparring sessions with employees who run a local ABC boxing club, who were keen to brush up on their techniques and bag some top tips off the big man himself.
Speaking about his visit, Joshua, who is an official Land Rover ambassador and drives a bespoke custom-made Range Rover, said: "I had a brilliant time building cars with the Halewood team and was totally blown away by the knowledge and passion of everyone there, who did a great job at showing me the ropes! It was really exciting to be in Liverpool and meet the people behind the cars."
Asked about whether he would be tempted to throw in the towel and take a route into engineering, the boxing legend, said: "Apparently I am a natural at building cars, although I don't think I will be giving up my day job anytime soon, I will stick to driving them. I can't wait to go for a spin in the new Evoque – made by the amazing team I met today."
During his visit AJ took time to chat to employees as well as pose for selfies with the excited workforce.
One worker on the production line said: "I was gobsmacked when Anthony Joshua walked into the factory. It's not every day you come to work and get to meet one of your heroes, I can't wait to go home and tell my family what happened today. We've been working really hard on the new car so it was a nice boost – everyone is buzzing."
Stuart Lord, plant operations director at Halewood, added: "The new Evoque is not just hugely important for our plant but also the whole Liverpool city region. The plant has benefited from a £130m investment to support its production, which in turn has helped to boost the local economy and secure jobs.
"AJ's visit served as a timely reminder to everyone here of just how far we have come and I hope the experience has motivated the workforce to continue to be at the top of their game and make sure this is another knockout Halewood success story just as the first cars start hitting the road."
Launched in 2011, the Evoque is the most decorated Land Rover of all time with more than 217 awards, exported to 180 markets, with 725,000 Evoques manufactured in Halewood.
Since the first Evoque rolled off the Halewood production line, 80 per cent have been exported – generating an estimated revenue of £17.6bn for the UK.
The next generation model, which made its global debut yesterday, will continue to be manufactured at the state-of-the-art Halewood plant with additional production overseas to meet market demands.
Building on the original Evoque's instantly-recognisable design, the new Range Rover Evoque is a sophisticated evolution of the distinctive coupe-like silhouette, typified by its distinctive fast roofline and raising waist that identify the Range Rover family. From 2020, every new Jaguar and Land Rover will have the option of electrification and this new architecture has been designed for hybrid-electric power, with a mild-hybrid option on the new Range Rover Evoque at launch and a plug in hybrid available 12 months later.