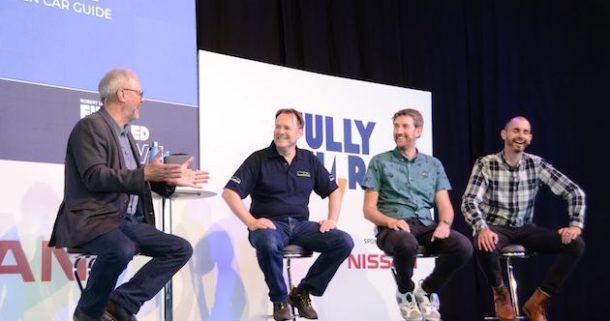 NAA Member News: Automotive Comms formalises partnership with Robert Llewellyn's Fully Charged
Automotive Comms, through the company's Green Car Guide website, has launched a partnership with Robert Llewellyn at his Fully Charged Live event, starting with the supply of Green Car Guide's written EV reviews to appear alongside Robert Llewellyn's and Jonny Smith's video EV reviews on the new Fully Charged website…
After 13 years of providing news and reviews about the latest green, hybrid and electric cars, a new Green Car Guide site was launched at the Fully Charged Live event. Featuring new design, new sections and new navigation to allow visitors to find content more easily, there's also a new 'Frequently Asked Questions' section, which will continue to be expanded, providing trusted information in partnership with the Energy Saving Trust and the Low Carbon Vehicle Partnership.
Green Car Guide's stand at Fully Charged Live aimed to help with the confusion that many motorists are currently experiencing during the transition to electric vehicles by providing clear, engaging, trusted and independent advice.
Green Car Guide's Editor, Paul Clarke, was also on stage with Robert Llewellyn, Jonny Smith and Tom Clarke from LV for the final session of the event, the 'Electric Car round-up'. By this stage Jonny had been presenting continually throughout the event and was slightly hyper!
In terms of the rest of the event, it's really not possible to summarise Robert Llewellyn's Fully Charged Live 2019 in one sentence, but we'll try: Electric vehicles, clean energy and everything connected to EVs that you need – all in a fun, friendly and character-filled festival.
Fully Charged Live 2019, which took place on 7th, 8th & 9th June at Silverstone, included 30 live sessions on stage covering a diverse range of subjects, test drives of the latest EVs, and over 100 exhibitors with a wide variety of services – ranging from charge point suppliers to electric conversions of classic cars. There was also a music stage with live bands, and Robert's fellow Red Dwarf star Craig Charles even put on a Funk & Soul Club set on Saturday evening.
Even with much more space than last year (which was the first year of Fully Charged Live), all of the sessions on stage were completely packed. Presenters included Robert Llewellyn, Jonny Smith, Maddie Moate and Helen Czerski – and a range of experts in EV and clean energy-related fields.
There was so much to see and do at Fully Charged Live 2019 that we can't cover everything, so here's a feel for the variety of content at the event.
THE LATEST EVS
The latest EVs were available for test drives around Silverstone's Stowe circuit. Manufacturers included BMW, Kia, Nissan and Renault.
The brand new Nissan LEAF e+ was on display, with a longer range of 239 miles based on the WLTP combined cycle, up from 177 miles.
The Jaguar I-PACE – 'World Car of the Year' – was also available for drives, but around a smaller route.
However the most newsworthy EV was the Tesla Model 3. Unfortunately you couldn't drive one, but there was a left-hand drive Model 3 display model on the Tesla stand, and a Model 3 owner from Holland even brought his own car over to show to Fully Charged visitors.
But it wasn't just the Model 3 attracting the crowds – the forthcoming all-electric Peugeot e-208 also grabbed the attention of visitors as they arrived at the event. The e-208 has a range of up to 211 miles based on the new WLTP test cycle, and a funky new '3D' instrument cluster.
There was also another electric car star lurking in the garages: the Aston Martin Rapide E. With the batteries located where the engine used to be, rear-wheel drive and 610PS and 950Nm of torque, it promises to be interesting to drive…
DRIVEELECTRIC AND THE FULLY CHARGED 500
One of the 'spectacles' of the show was the constant huge queue on the DriveElectric stand throughout the three days, comprised of people hoping to win a Hyundai Kona Electric for a year. DriveElectric – a specialist in EV leasing – also sponsored the 'Fully Charged 500' event on the Friday, which consisted of live sessions designed to help businesses wanting to make the switch to EVs.
EVEZY
A new way to drive an EV was launched at Fully Charged Live in the form of evezy, an electric vehicle subscription service. If you want an EV, then you can subscribe to one through evezy, for as short or as long a period as you want, just for a monthly payment of a few hundred pounds, which is all-inclusive, covering the car, insurance, maintenance and even charging. You can even swap your EV for another model using evezy's app. An increasingly wide range of EV models are available from evezy, including the hotly anticipated Tesla Model 3.
EVISION ELECTRIC CAR HIRE
If you're looking for something other than EV leasing or EV subscriptions, then maybe electric car hire might be the answer? EVision is an EV hire company with a fleet of over 100 vehicles including the Tesla Model S P100D and the Model X SUV. All of the hire vehicles feature unlimited mileage.
ELECTRIC ZOO
Electric Zoo aims to provide an easy journey to a new electric car. Its service includes electric vehicle suitability surveys; data tracking tech to analyse current vehicle usage; planning, design and installation of charging infrastructure; supply of all electric vehicles; and green energy solutions.
CLEEVELY EV
Think that your new electric car can only be serviced by a main dealer? Then think again. Cleevely EV can service your EV, the company also sells second-hand EVs, as well as offering a Tesla rental service.
GRIDSERVE
There is now an increasing variety of makes and models of EVs, however the lack of public charging infrastructure is still seen as a barrier to potential EV buyers. There were a number of charge point companies at Fully Charged Live, but one of the most interesting was GRIDSERVE, a business that has developed a brilliant concept, whereby it owns solar farms, with battery storage, and it uses this renewable energy for high power 150kW electric vehicle charging hubs (which can be upgraded to even higher capacity) and the company plans to build 20 such hubs around the UK over the next year. Each location is very carefully considered, and will offer coffee and wifi as well as a range of other facilities such as spaces for displays of static EVs.
LOWCVP
The Low Carbon Vehicle Partnership (LowCVP), established in 2003, is a public-private partnership that exists to accelerate a sustainable shift to lower carbon, cleaner vehicles and fuels and create opportunities for UK businesses. The LowCVP:
Develops initiatives to promote the sale and supply of low carbon vehicles and fuels
Provides input and advice on Government policy
Provides a forum for stakeholders to share knowledge and information
Ensures that UK motor, fuel and related businesses are best placed to capitalise on the opportunities in the low carbon markets of the future
Contributes to the achievement of UK Government targets for road transport carbon reduction.
ELECTRIC CAR CONVERSIONS
Underneath the main exhibition space there was a variety of vehicles that had been converted to electric propulsion, including a Ferrari, a DeLorean, a Volkswagen Camper Van and two Volkswagen Beetles. And a Tesla Model S had retained its electric powertrain but had been transformed into an estate. There were also electric bikes and electric motorbikes.
SUMMARY
Over recent years there have been many attempts to stage Electric Car Shows. Fully Charged Live has succeeded with a fantastic event where many others have failed. So why is this? There are likely to be many reasons, but the 'Robert Llewellyn factor' must not be under-estimated. Robert has built up a huge fan base through TV and YouTube over the years, and most visitors to the show will have come through the route of following Robert on channels such as YouTube and Twitter. But this alone isn't enough – the key is that Fully Charged has managed to encapsulate Robert's character in an event – fun, engaging, friendly and approachable – all based around a genuine passion for EVs and clean energy.
If you didn't attend Fully Charged Live 2019 then make sure you book for 2020. Based on the progress from 2018 to 2019 (any new visitors this year are likely to be amazed that 2019 is just the second year), it will continue to become even bigger, even better, and, crucially, it will still be differentiated from other events by encapsulating the unique character of Robert Llewellyn.
Paul ClarkeRead the original article here: https://www.greencarguide.co.uk/features/robert-llewellyns-fully-charged-live-2019-event-review/