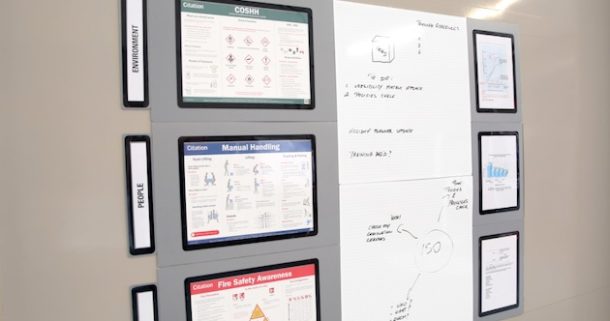 NAA Member News: Award-winning company launches new internal communication tool for businesses
Melo World, an award-winning company that specialises in creating visual standards solutions for production and operations facilities, has launched a new product to support internal communications in the workplace…
Melo Vista is a modular sign system for offices and manufacturing firms to display staff information and create processes to support Lean thinking.
The five boards combine to create a Communication Wall for businesses to display their key business statistics, visitor information, work rotas, KPIs, health and safety signage and more.
The modular system consists of an A4 board with a clip to hold printed information for distribution, A4 and A3 document holders, header boards to categorise the display and a magnetic, dry wipe board for custom messages and notes.
The Vista boards can be used in multiple combinations to create a custom notice board for a reception, office wall or meeting area. They are also very effective in manufacturing plants, enabling the company to display key health and safety information and statistics to support ISO requirements.
The boards can be used individually to make signs, by attaching them to doors or walls and slotting in the printed sign, which can be changed at any time without additional adhesive.
Melo Vista is made from carbon friendly, recyclable material. It is manufactured in-house at Melo World in Cheshire, United Kingdom and was designed by Director, Phil Hudzik.
"I designed Melo Vista to be simple but effective. It's been engineered to provide our customers with the full freedom and flexibility of displaying and changing their content whenever they need or want to. So, ease of use was crucial, and now with Vista they can simply print their information and slot it into the reusable document holders," says Phil.
"Quality is very important to us too. We have been lucky enough to be commissioned by some of the world's leading automotive manufacturers to design and build bespoke communication boards and zones for them. Melo Vista is my solution for smaller manufacturing plants and offices, so they can also manage their important internal communications without fuss or mess and set up efficient processes."
Melo Vista was officially launched at the Chester Business Show on 3rd October 2019, where the Chairman, Nigel Allman, Head of Marketing, Amanda Wynne Evans and Director, Phil Hudzik presented and demonstrated it to attendees of the show, receiving great interest and feedback from local businesses.
Melo Vista is available to purchase online through our website at www.meloworld.co.uk with free shipping to the UK.