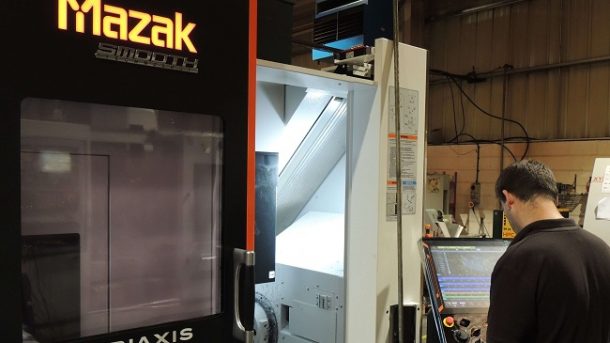 NAA Member News: Axiom Engineering takes delivery of a state-of-the-art Mazak 5 Axis Machining Centre
As we now find ourselves in unchartered waters due to the recent pandemic it would be easy to batten down the hatches and consolidate our existing customer base and look to reduce costs where possible. We decided to take an alternative approach, if you're not building for future success, you're building for future failure. Due to the pandemic our experience and customer feedback would suggest that businesses are looking closer to home for their manufacturing requirements which can only help to boost the UK's much depleted economy.
We are Axiom Engineering, ISO 9001 – 2015 accredited, based in Altham, Lancashire. We offer engineering services listed below to businesses nationwide.
CNC Milling & Turning
Laser Cutting & Folding
MIG – TIG Welding
Fabrication
CAD Design
Mazak 5 Axis Machining Centre
We recently made what some would consider to be the brave decision to push forward and seize the opportunity to ensure our long-term business stability by investing in our team and ensuring they have the skill-sets and support required to offer our existing and future customers the technology and service they deserve with a quick turn-around, value for money and uncompromising standards. This is why we made the decision to invest in the latest technology by purchasing a Mazak 5 Axis machining centre. We believe this could open up some amazing and exciting opportunities for us. We are looking to work with the country's leading manufacturers including, motor industry, aerospace, oil and gas, renewable energies, health sector and much, much more.
The Mazak 5 Axis offers infinite possibilities including, machining complex shapes in a single setup for increased productivity. Higher part accuracy because the workpiece does not move across multiple workstations and achieves superior surface finishes and overall better part quality.
The Machining Centre was delivered to us by H C Wilson Haulage and installed by Sheltee Industrial Maintenance on the 23rd July 2020. We are pleased to say, the machine was installed professionally, safely and with the minimum of fuss. These companies would be worth consideration if you are installing new machinery.
So, if you have present or future engineering projects which require any of the services listed, we would love to hear from you. Please call us on 01282 779143 or email: sales@axiomlimited.co.uk
Craig Harker, Managing Director
Axiom Engineering Limited