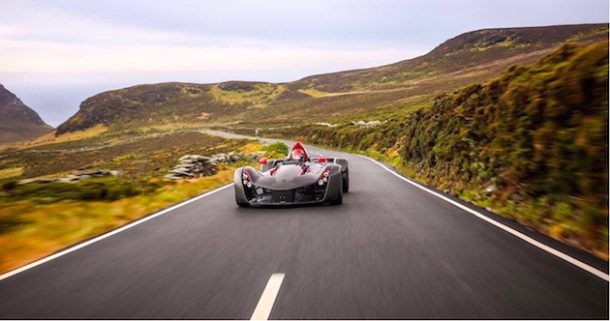 NAA Member News: BAC active in the Isle of Man, Canada and Japan
Briggs Automotive Company (BAC) has recently taken its Mono supercar to the Isle of Man and Japan, as well opening up a new export market of Canada…
Briggs Automotive Company (BAC) recently took to the Isle of Man for a festival of track and road fun behind the wheel of the Mono supercar.
An army of 12 Monos hit the island as part of a special customer experience weekend, enjoying de-restricted and closed roads around the stunning island with like-minded enthusiasts and BAC staff.
The Isle of Man prides itself on offering the perfect setting for extreme sports, driving and cycling, and the BAC team certainly put its picturesque scenery and ultimate driving roads to great use.
Famed for its ability on both the track and road, the Mono was perfectly at home on its Isle of Man playground, as BAC and the local Government created unforgettable memories for clients and friends
BAC also joined forces with the Isle of Man Government and provided the world's first BAC Mono police car.
The Mono will now become an active member of the fleet and will also be on show at a number of local festivals to encourage safe and responsible driving.
PC Andy Greaves, who is an advanced driver, police motorcyclist and collision investigator, is the force's dedicated Mono driver and was full of excitement when discussing his new model: "It's a remarkable vehicle, and clearly will be of huge interest to bikers and car drivers alike. We are here to promote safe use of the road, and it's amazing how many people want to talk to you when this is your transport."
By taking to the cockpit of the Mono, Greaves will be able to spread the word on road safety and keep drivers both interested and entertained. Greaves continued: "Every opportunity we get, we stop and talk to visitors. Having a show-stopper like a BAC Mono police car on the fleet makes that so much easier."
BAC also recently exhibited the Mono at the JSAE Congress 2017 alongside the Niche Vehicle Network and the Department for Business, Energy and Industrial Strategy (BEIS) on the UK pavilion with fellow innovative Brits.
The JSAE Congress brings together the very best and most technologically advanced companies in the world and invites them to showcase their new innovations.
BAC – responsible for several world firsts and breaking new technological ground – showed off the Mono together with its revolutionary carbon-ceramic brakes and hybrid carbon-composite wheels
Finally, BAC has teamed up with Canadian group Pfaff Automotive Partners, one of North America's leading dealer groups, and it will now sell BAC's Mono supercar from the company's Ontario base.
BAC has exported the Mono to over 30 territories worldwide since its launch.