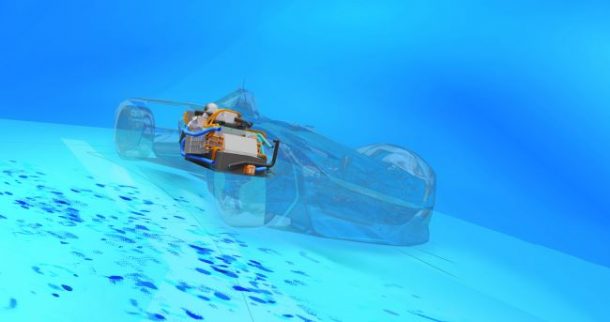 NAA Member News: BAC and Viritech release results of unique e-Mono hydrogen powertrain concept feasibility study
British supercar manufacturer Briggs Automotive Company (BAC), and pioneering hydrogen powertrain engineers Viritech, release results of a unique hydrogen powertrain technology concept feasibility study, to create a new e-Mono.
Viritech, developers of hydrogen powertrain technologies for the automotive, aerospace, marine and distributed power industries, secured a Niche Vehicle Network Feasibility Study grant, funded by the Office for Zero Emission Vehicles, to carry out a study into developing a hydrogen powertrain for niche vehicle applications. Working in collaboration with Liverpool-based BAC, manufacturers of the renowned Mono supercar, the resulting e-Mono concept continues to be led by BAC's principles of uncompromising performance and driver experience.
One of the main challenges of converting a 555kg Mono supercar to zero-emissions is how to retain its ultra-light weight, especially as converting to battery-electric (BEV) would make the car 50% heavier. In addition, while BEV cars can go just as fast as a petrol-engined alternative, the joy of a track-focused supercar is its agility and responsiveness through corners. Viritech and BAC set out to create a design for a ZEV (Zero Emission Vehicle) e-Mono that stayed true to BAC's founding principle of making the world's best driving car.
Viritech's philosophy is to develop fuel cell drivetrains that are lighter, smaller, and more efficient than anything on the market, and BAC wanted to develop a ZEV powertrain that could be fitted within the existing chassis and body, while keeping weight to an absolute minimum. The e-Mono also had to achieve the same Silverstone lap time as the Mono R, if not better it.
It was accepted that the combination of a fuel cell, a hydrogen storage tank and a battery pack would be heavier than a petrol engine, but if kept to a manageable weight, it would not compromise the Mono's legendary agility.
One of the main challenges was to fit a fuel cell powertrain into an existing Mono chassis, the next was to retain perfect weight distribution, and finally the completed car had to be housed within the confines of existing Mono bodywork.
The solution was to fit the battery pack element as far under the seat as possible, and by making the battery pack casing a structural component, it was possible to reduce the chassis footprint which increased available space. The fuel cell was then put above the battery pack, with its compressor hidden inside the air intake pod normally used for the petrol-powered Mono R.
The result is a battery pack which produces 265 bhp, with a fuel cell producing 107 bhp, and tiny 3kg motors on the front wheels which provides an additional 55 bhp per motor and all-wheel drive.
The design was put through a series of Digital Twin simulation tests, in which the e-Mono shaved two seconds off the Mono R Silverstone lap time (2.04.3 vs 2.06.3). The combination of fuel cell and battery resulted in the capability to run 10 fast laps of Silverstone between refuelling. On-road range is calculated at 166 miles on the official WLTP cycle, approximately 140 miles in realistic use.
e-Mono Statistics
• Top Speed: 165mph
• 0-62mph: 2.2s
• e-Mono Silverstone Lap: 2:04.23
• Mono-R Silverstone Lap: 2:06.30
• WLTP Range: 166 miles
• Weight: 655kg
• Peak Power: 277kW (371bhp) 197kW battery + 80kW fuel cell
Improvements in fuel cell efficiency will enable an increase in range of a further 50% by 2024, without any increase in powertrain size or weight.
The powertrain weight of Mono-R is just 212kg, and the additional weight for the e-Mono is 149kg, which includes the new all-wheel drive system. However, there is scope for further weight reduction via the adoption of a carbon case for the fuel cell which would save an estimated 15-20kg, and Viritech is also developing a new battery module that would save a further 30kg. This would bring the total vehicle weight to within 100kg of the current Mono-R.
It has been demonstrated, in the virtual world, that a fuel cell electric powertrain meets the performance requirements of the most driver-focused, lightweight supercar in the world. Furthermore, they can be met without any changes to the vehicle's ultra-compact footprint and bodyshell.
The results of the joint feasibility study provides BAC with a sound foundation and basis for a future, proof of concept project to further develop, and enhance, with its technical partners, in preparation of launching e-Mono to the world.
Neill Briggs, BAC Co-Founder and Director of Product Development commented, "BAC is renowned for launching world firsts in the automotive industry and e-Mono raises the bar once again. Driving enthusiasts around the world will be as delighted as we are by this feasibility study, with e-Mono offering the perfect combination of range, performance and zero emissions. To bring e-Mono closer to production, BAC is looking for suitable funding to proceed to proof of concept stage, and we welcome conversations with interested parties."