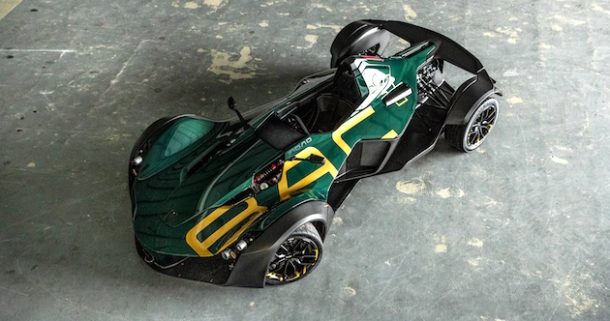 NAA Member News: BAC Celebrates Historic Milestone as Centenary Mono is Delivered to Strøjer Samlingen Museum, Denmark
Briggs Automotive Company (BAC) is celebrating a momentous achievement in its history, officially reaching the landmark of 100 BAC Monos delivered around the world…
A special milestone demands a very special car, and the 100th Mono that rolled out of BAC's Liverpool factory at the start of March is fittingly the first supercar to sport stunning British racing green, visible carbon bodywork.
Also setting it apart from Monos past is a unique "Chassis 100" golden plaque located just below the driver headrest, as well as lashings of gold on the body, carbon rims and interior stitching.
Mono #100 was acquired by the Strøjer Samlingen car museum in Assens, Denmark – one of the most impressive collections in the world: The museum is home to over 120 cars from around the globe, including Danish royal family models, James Bond movie cars and a remarkable line-up of Ferraris, Lamborghinis, Bugattis, Aston Martins, Koenigseggs, Porsches and McLarens through the ages.
The centenary Mono took pride of place right in the middle of the museum's main room upon its arrival surrounded by truly priceless metal – hitting home just how far BAC has come in a short space of time.
Mono – the world's only single-seater, road-legal supercar – was first launched in 2012 and has gone from strength to strength thanks to its conceptual, technological and performance brilliance: In doing so, it's become something of a global phenomenon.
Such has been its rise to prominence over the years that BAC now makes three cars per month to cater to demand and has delivered the Mono to 38 territories around the world (and counting) – Denmark is the latest nation to join the list.
The delivery of Mono #100 to Strøjer Samlingen was doubly special for BAC, as it marked 10 years to the day since Ian and Neill Briggs first founded the company and laid plans to produce the ultimate driving machine.
Neill Briggs, BAC Co-Founder and Director of Product Development, said: "Over the past decade, there have been a number of occasions where I've had to stop and pinch myself – and delivering Mono #100 to Strøjer Samlingen is one of those times! The collection is absolutely phenomenal; these are the cars that I used to have posted up on my bedroom wall as a youngster, and now the Mono is lining up in the middle of all of them: It's been a humbling and emotional experience.
"We've had an exceptional decade since myself and Ian first registered the business back in March 2009, when our vision was just to create a car that offers the ultimate driving experience: Not in our wildest dreams did we foresee us reaching 100 cars in such a short space of time and accomplishing what we have around the world – it's been incredible to say the least.
"Delivering Mono #100 is a huge milestone in our history, but stay tuned – there is a lot more excitement to come from BAC in the near future."
Jørgen Strøjer-Hansen, Strøjer Samlingen Museum owner, added: "I am very, very happy to have the 100th BAC Mono in my museum – it is an honour to welcome the car and I extend my congratulations to BAC for reaching three figures in style! All of our cars have interesting stories and the BAC is no different: This is a car that me and my family have loved for many years and finally we have the 100th model in our collection: I have never seen before the level of quality of the carbon and the green and gold colours look perfect: We have a real British jewel here!"