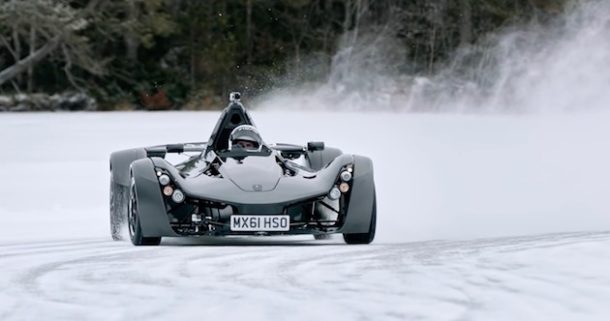 NAA Member News: BAC launches ice driving and Apprenticeship scheme
Briggs Automotive Company (BAC) has hosted its first ever Mono Ice Driving Experience trip by hitting the frozen lakes of Sweden…
Armed with three one-of-a-kind Mono supercars, BAC powered and drifted along the Åre ice with specially selected clients and enthusiasts.
Despite battling intense cold weather, the three Mono cars performed amazingly well on the ice, with attendees drifting like pros when it was time to say goodbye.
BAC Co-Founder and Director of Product Development, Neill Briggs, said: "The first Mono Experience trip was an overwhelming success. Our clients are considered our friends, and we are so happy that they became part of a very exclusive club of Mono drivers to have hit the ice. Spirits were high for the duration of the trip and we're very excited for the next phase of giving back to our loyal customers."
Co-Founder and Design Director Ian added: "What a fantastic experience it was for us in Sweden and the absolute perfect setting for the Mono. The blue skies, the white snow – it's exhilarating before you even start to move. We had helicopter rides, snow mobile tours and built an even closer relationship with our customers. I still remember imagining what it would be like to drive the car long before it even existed; and every time I drive it I get that feeling – especially in an environment you haven't driven before. It's a wonderful feeling."
Watch the Mono in action on the frozen lakes of Åre here: https://youtu.be/EMlc9bCgHr8
Back at home, BAC has joined forces with Riverside College and launched its first ever apprentice scheme from its Liverpool headquarters – further demonstrating its commitment to the region.
BAC is incredibly proud of its British heritage and 98% of its supply chain is based in Britain and 45% of the bill of materials sourced within Liverpool and the North West region.
BAC has now employed two talented apprentices from Riverside College to play a fundamental role in operations in the workshop.
Four impressive motorsport students made it through to the final stage of the apprenticeship programme and headed to BAC HQ to showcase their skills to staff.
Having been hand-picked by Riverside College Programme Area Leader, Pre Advanced Engineering & Motorsport, Andy James, the candidates more than proved their worth during their time in the workshop, and two candidates were successfully selected to be employed as apprentices with BAC.
One of the apprentices will now specialise in bodywork, while the other will work on sub-assembly and chassis dress and play a big part in BAC's worldwide success going forward.
BAC Co-Founder and Director of Product Development, Neill Briggs, said: "We are incredibly proud of our Liverpool roots and are always trying to give back to the community – whether it be taking the Mono around the city for the public to enjoy or showing dedication to British suppliers. We're very excited to take on our two newest recruits and give back to Riverside College and the local community even more. All four of our candidates showed fantastic skills during their three-day trials at BAC HQ, and it's only fitting that we've employed two students during National Apprenticeship Week."