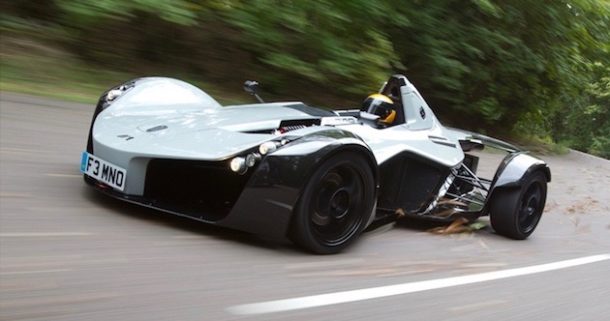 NAA Member News: BAC Mono Crowned 'Best For Selfish Sundays' in Top Gear Magazine's Best Cars In The World Issue
Briggs Automotive Company (BAC) has won yet another coveted award, as Top Gear crowned the Mono supercar 'Best for Selfish Sundays' in the magazine's Best Cars in the World issue…
Top Gear defines the Best for Selfish Sunday Award winner as a car that is all about the driver – one that any person can hop behind the wheel of and thoroughly enjoy out on the open road without a care in the world.
BAC's one-of-a-kind Mono fits Top Gear's bill perfectly. The world's only road-legal single-seater supercar is built to be the ultimate driver's car – from the central seating position to the use of innovative lightweight materials, the Mono is forever tweaked to be a top performer.
Experiencing the accessible nature of the Mono's power and poise recalibrates the senses, while BAC strives to ensure it suits drivers of all skills and from all walks of life on both the road and track.
Top Gear recognised these characteristics to award the Mono the Best for Selfish Sundays Award, saying "there's an unexpected balance to this car that makes it incredibly forgiving to drive – even in the wet".
BAC is no stranger to winning prestigious awards and recently came away from the 2016 Northern Automotive Alliance Awards with the International Trade and Logistics Excellence trophies.
Adding Top Gear's coveted award to its CV shows how well rounded BAC is as an industry, displaying brilliance both on and off the road.
In fact, the Mono has won some major Top Gear awards over the years, including The Stig's Car of the Year in 2011 – two years before it set the second fastest-ever Power Lap time around the BBC show's circuit.
It went one better while under the control of evo magazine recently, setting the fastest lap of any car tested by the magazine at the Anglesey Coastal Circuit. The Mono saw off the likes of the track-only, slick-shod McLaren P1 GTR, the Porsche 918 and the Ferrari 488 GTB to top the leaderboard.
Neill Briggs, BAC Co-Founder and Director of Product Development, said: "We are truly honoured and delighted to receive the Best for Selfish Sundays Award from Top Gear magazine. The Mono has achieved success all over the globe, and this award is further evidence of it being the ultimate driver's car.
"The Mono is all about driving enjoyment no matter one's level of ability. From casual Sunday drives to setting rapid lap times on track, it's a one-of-a-kind supercar that anyone can fall in love with. We build the Mono to suit every driver and Top Gear's award is testament to the hard work and attention to detail that our talented team put in to every single model."