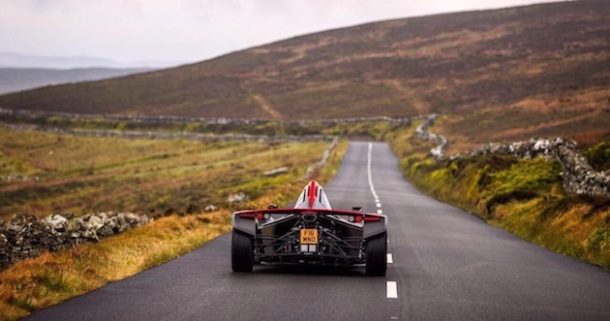 NAA Member News: BAC Mono on the Isle of Man – video
A video has been produced of the recent BAC Isle of Man Mono Experience …
Carfection has put together a truly epic 10-minute film celebrating founder Drew Stearne's time on the Isle of Man behind the wheel of Briggs Automotive Company's (BAC) world-famous Mono supercar.
You can watch the spectacular footage here: https://youtu.be/5_Cyfget9YQ
Stearne was on the island as part of BAC's Isle of Man Mono Experience, whereby customers and friends come together to sample the brilliance of Mono in idyllic surroundings.
A Mono Experience is all about offering a one-of-a-kind lifestyle adventure on the best driving roads in the world with like-minded individuals. It's a chance to enjoy Mono the way it was made to be enjoyed, and the Isle of Man provides the perfect setting for exactly that.
It's famed for offering the best driving roads in the world and is the perfect location for extreme sports. With Mono being the ultimate piece of sporting equipment, it thrived in its surroundings and served up unrivalled thrills.
Stearne's was one of 12 Monos – the most ever assembled together – taking in the experience, as BAC teamed up with the Government to close roads purely for the enjoyment of mountain roads and also serve up a private track day at Jurby.
BAC brought 20 customers – representing 10 nationalities – to the island as part of a four-day bonanza, culminating in the group taking on the Isle of Man's spectacular TT Course.
Naturally, Stearne was full of praise for both the Isle of Man and Mono, saying: "Having never visited the Isle of Man before, it was the single best first impression I could have hoped for. A gathering of awesome cars, de-restricted roads, decent conditions and like-minded people all enjoying a machine the way it was built to be enjoyed. What better way to enjoy Mono than on an island it's tailor-made for? Completing a lap of the TT Circuit is an unbelievable experience in its own right, but to do it in a BAC Mono has been a sensation. One of the best driving experiences of my life, hands down."
Mono Experiences take place throughout the year, taking on a number of scintillating routes around the globe as well as track days. It will once again head to the Isle of Man in 2018 (May), as well as enjoying an Ice Driving Experience on the frozen lakes of Sweden (February) and the Atlantic Road Trip (July).
Following the event, BAC Co-Founder and Director of Product Development, Neill Briggs, said: "What a fantastic weekend we enjoyed on the Isle of Man! The island really is perfect for Mono, and we are incredibly grateful to have the chance to give our clients a taste of Mono lifestyle in such idyllic surroundings. Mono Mania truly gripped the Isle of Man during our stay and we can't wait to get back on the island next year and continue this annual tradition. The video perfectly captures the amazing nature of our trip and just how special our Experience tours are."