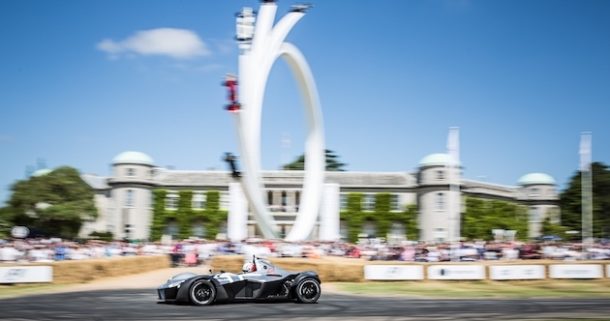 NAA Member News: BAC Mono wins its class at the Goodwood Festival of Speed 2017
Briggs Automotive Company (BAC) reigned supreme at the Goodwood Festival of Speed 2017, winning its class on the famous hill climb…
Briggs Automotive Company (BAC) is celebrating another hugely impressive performance feat, having dominated its class at the Goodwood Festival of Speed 2017 hill climb.
With test driver Oliver Webb at the wheel, BAC's One-of-a-Kind Mono supercar clocked a 49.54-second lap time up the iconic hill to top the Supercars and Race Cars for the Road Shootout leaderboard.
Not only did BAC take home the coveted Goodwood medal, but the Mono did so in style by opening up a sizeable gap on its rivals. The Caterham Seven 620R took the runners-up spot almost half a second slower than the Mono, while the Radical RXC Turbo was over a second back with a time of 50.83.
Following the race, Webb commented: "It was always going to be close between us and the Caterham and Radical, but I'm so happy with the run and it was fantastic to top the leaderboard by such a chunk. We pushed the Mono hard out there but it handled everything we threw at it and came home with a great time. The hill climb is a very challenging drive – there are lots of twists and turns, undulations and so much to think about – but the Mono is so nimble and agile that it handled it perfectly. We're delighted with the result."
BAC's Supercars and Race Cars for the Road Shootout triumph crowned a very successful fifth appearance at the Goodwood Festival of Speed for the Liverpool-based company, with its stand being one of the main attractions of the show.
The Autodesk Art Car – developed in conjunction with BAC's software partners – took pride of place at the front of the stand and wowed guests with is futuristic styling.
Two more Monos were sitting pretty on stage over the course of the week, while BAC's all-new Mono configurator allowed guests to spec their perfect single-seater. Live DJ and corporate hospitality provided the entertainment and the ideal platform for celebrating the Hill climb triumph.
BAC Co-Founder and Director of Product Development, Neill Briggs, said: "We're absolutely over the moon with our Hill climb victory – my heart was beating out of my chest as Oli crossed the line! Our time of 49.54 seconds was amazing; Oli did an amazing job in the cockpit and we thoroughly enjoyed our post-run celebrations. Such was the brilliance of Mono that our time would have put us right up there in the Shootout overall – pretty impressive for a production car on road-legal tyres! We hope to be a part of the flagship race in future years.
"We have such a talented team at BAC, and it's feats like this that prove our hard work is paying off. I'd like to extend thanks to our fantastic supply chain, who continue to support us and make moments like this possible. The Goodwood Festival of Speed is one of our favourite events on the automotive calendar and we thoroughly enjoyed interacting with our national and international clients and friends as well as meeting new Mono fans."
BAC is releasing a limited-edition T-shirt to honour its achievement at the Goodwood Festival of Speed. For more information, email info@bac-mono.com