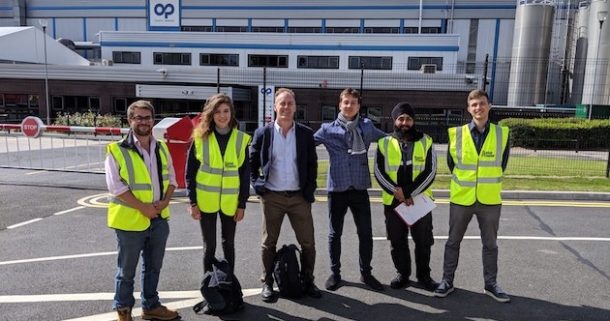 NAA Member News: Base Power Plastic Omnium Energy Centre
Engineering, Physics and Business students from universities in the UK and France recently spent the day at Plastic Omnium Automotive, Measham, learning about the opportunities for energy efficiency and carbon savings in the automotive industry.
The Plastic Omnium Energy Centre, built and operated by BasePower, is a 2MW Combined Heat and Power scheme which supplies a baseload of low-carbon electricity for use around the site, heat for the site's paint shops, and process chill in the summer.
The students toured the Plastic Omnium factory and BasePower Energy Centre with Neil Champ, the site's Engineering and Maintenance Manager. Neil gave them insights into the automotive industry borne of many years' experience and demonstrated how energy and carbon savings can be delivered through generating on-site energy.
Robin Hardy, Projects Director, BasePower said: "The students really valued the opportunity to see the scale of Plastic Omnium's manufacturing operation and how it addresses energy savings opportunities. We greatly appreciate Neil Champ giving up his time to demonstrate how university learning translates into real-world activity."
Energy-intensive sectors of the UK economy face challenges including volatile energy prices, environmental obligations and security of supply. BasePower combines proven technology with a comprehensive service approach and full finance options to deliver Combined Cooling, Heat and Power (CCHP) systems. These allow large energy users to save money and meet their environmental obligations at no capital expenditure or risk to their operations. BasePower was established in 2014 by a team with over 30 years combined experience in local energy infrastructure within the UK, overseeing generation project delivery in sectors from agriculture and food production to logistics and manufacturing. For further information visit: www.BasePower.com or contact: Sharon D'Cruz Sharon@basepower.com t: +44 (0) 7899 996 957