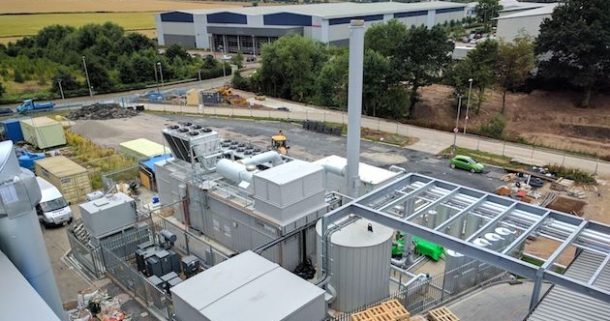 NAA Member News: BasePower works with Plastic Omnium
BasePower's second project at Plastic Omnium, a leading Tier 1 supplier to the global automotive industry, has achieved G59 certification, marking its official 'switch on'…
BasePower has developed, funded and built the 2MWe Combined Cooling, Heat and Power (CCHP) unit at Plastic Omnium's site in Measham, Derbyshire. The supply of electricity is now being ramped up and will provide power for the manufacture of injection moulded automotive exteriors, heat to the factory's paint shops and cooling to its mould tools.
The GE Jenbacher Je 612 reciprocating gas engine was supplied and installed by Clarke Energy, generating electricity and low temperature hot water, while the absorption chiller was provided by Carrier.
The commissioning of the heat provision system is already underway, and will be followed in the coming weeks by the commissioning of the Absorption Chiller.
The construction project was managed by BasePower using a team of national and local contractors and was installed during a major retrofit at the Measham factory, without any interruption to its operations.
Dan Poulson, Director at BasePower, commented: "The switch-on of the first of our CHP projects in the automotive sector marks a major milestone for us. We have enjoyed working closely with the teams at Plastic Omnium and Clarke Energy to create a scheme that maximises energy and carbon savings to the site, whilst remaining in sync with its operations throughout the retrofit."
For more information about BasePower's work in the automotive sector, visit www.basepower.com/sectors/#auto-polymers