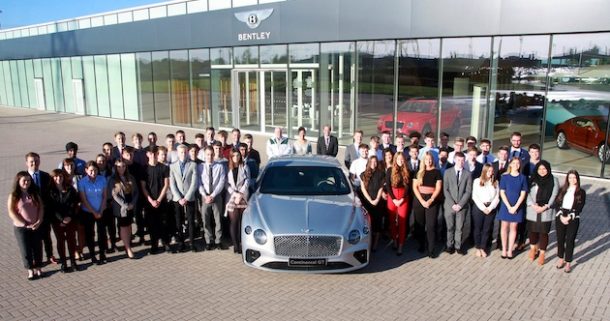 NAA Member News: Bentley Motors Named UK's Top Automotive Employer for School Leavers
Bentley Motors has been recognised as the number one automotive employer for school leavers in the UK for the second year running…
The awards – presented by careers guidance company AllAboutSchoolLeavers and voted for solely by Apprentices – highlighted Bentley's focus on future talent, learning and development and its innovative approach to Apprenticeship programmes, balancing theoretical learning with practical working.
Commenting on the achievement, Dr. Astrid Fontaine, Member of the Board for People, Digitalisation & IT, said:
"To once again be named the Top Automotive Employer for School Leavers in the UK is an achievement we are very proud of and underlines our continued commitment to future talent. This commitment spans decades with programmes running for more than 40 years each offering a solid foundation for people to build the relevant skills and knowledge that will enable them to grow through their careers."
Bentley's apprenticeship programme offers an invaluable way of gaining recognised qualifications while undertaking key training at Bentley, for three or four years, dependent on which area the Apprentice is working in.
A new cohort of 49 Apprentices will start in the autumn of 2019 joining the 200 people already on trainee programmes at Bentley Motors.
Talking about his experiences, Jamie Brown, a fourth-year Engineering Advanced Apprentice at Bentley Motors, said: "The Bentley apprenticeship programme has been a great opportunity for me as I have been able to pursue my academic studies, improve on my practical skills provided by experienced colleagues while earning a salary. Having access to the programme resources has motivated me to pursue further training which has been a very rewarding journey. I have built good working relationships from placements and friends from team building exercises along the way."
Bentley recently received further national recognition for its future talent and skills development programmes after being named as a Top Employer for the eighth consecutive year by the Top Employers Institute.
Bentley is also playing a pivotal role in the University Technical College in Crewe. Focused on Engineering and Design, the school offers an inspiring education for 14-19 year olds seeking a pathway to future employment.