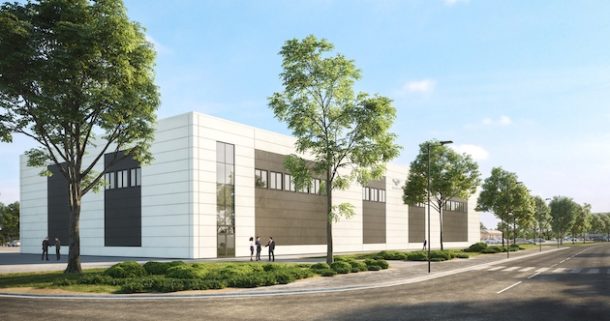 NAA Member News: Bentley Starts Work on State-Of-The-Art Engineering Test Centre and plants 100 Trees for 100 Years
Bentley Motors has announced that work has commenced on a state-of-the-art engineering test facility at the company's expanding headquarters in Crewe, as well as planting 100 native British trees around the site in Crewe…
The new engineering test centre is the latest phase in on-going development at the Pyms Lane site where all Bentley cars are hand-built.
With completion due next autumn, the new building will cover more than 4,600 square metres over two storeys. Included in this figure will be 773 square metres of office space and 1550 square metres designed for the installation of a single climate-controlled chassis dynamometer, operating across a range of temperatures from -10°C to +40°C.
There will also be a dedicated laboratory to run Real Driving Emissions (RDE) using the latest state of the art portable emissions measurement systems. Bentley's Technical Conformity department will be based in the test centre, with over 100 people working in the building.
The centre will allow Bentley to meet increased consumer demand for its current range of ultra-luxury vehicles, including the all-new, performance-orientated Flying Spur, the Continental GT and the new Bentayga Hybrid SUV, which marks Bentley's first step towards electrification.
It will also play a key role in Bentley's journey to become the world's most sustainable luxury automotive manufacturer, giving the business capacity to grow as it diversifies into hybrid and electric models. The British marque has already confirmed that it will offer hybrid or electric variants of all of its models by 2023.
Commenting on the expansion, Dr Werner Tietz, Bentley's Member of the Board for Engineering, said: "Our new engineering test facility will further enhance Bentley's industry-leading, modern, efficient manufacturing plant and allow us to grow as we diversify into hybrid and pure electric cars. It follows continued expansion and reinforces our commitment to build the finest, handcrafted motor cars in the world."
The building project, which includes an outdoor fuel filling station for test vehicles, complements Bentley's advanced new research and development headquarters, industry-leading training centre, engine production facility and paint shop.
It will also allow Bentley to carry out the latest WLTP fuel and efficiency test procedures more swiftly in-house. The World Harmonised Light Vehicle Test Procedure is used to measure fuel and electrical energy consumption and CO2 emissions from passenger cars, as well as their pollutant emissions. It was developed as a global benchmark for all cars and came into force in 2017.
Environmental considerations lie at the core of the new development, in line with the company's sustainability approach, which aims to promote biodiversity and create a greener site environment. Ahead of starting work, Bentley has already safely rehomed 10 fruit trees to the neighbouring site of its flagship showroom concept, CW1 House.
The popularity of the British luxury marque's car line-up is showing no sign of abating. In 2018, Bentley delivered over 10,000 cars for the sixth consecutive year, and this year is on target to register total sales close to its all-time record of 11,089 units that it achieved in 2017.
As Bentley Motors approaches the end of its centenary year, the company is also investing in a more sustainable future at its factory by planting 100 native British trees around the site in Crewe.
The project has been completed during the winter tree-planting season in time for National Tree Week (November 23 – December 1), which recognises the importance of planting more trees to tackle climate change and protect biodiversity.
The trees planted around the site in Crewe include ten oak trees which have been planted outside office buildings and 15 cherry trees which line the approach to the company's main entrance on Pyms Lane. A further 70 trees which include maple, beech, walnut, lime and elm saplings, have been planted along the boundaries of the Legends social facility. Additionally, ten fruit trees have been relocated from an area marked for development to create a new orchard outside the CW1 visitor reception area.
Peter Bosch, Member of the Board for Manufacturing, explains: "Sustainably-sourced wood has been one of Bentley's core interior components since our beginnings 100 years ago – and it continues to be an essential element of the unique craftsmanship in our cars. Our wood veneers are ethically sourced by experts who go to great lengths to find the finest veneers in the world. We wanted to plant trees around site that are not only native British species, but reflective of the interiors that we produce in our cars and we use oak, walnut and maple substrates in Mulsanne.
"Trees play a vital role in tackling climate change because they help to improve air quality, absorb CO2 and increase oxygen. They are also important for our local biodiversity and wildlife and they make our local area a nicer place to live and work too. We've chosen the locations carefully to ensure they enhance the green spaces on our site and can be enjoyed by both our colleagues and the local community.
"As Bentley continues to focus on becoming the most sustainable luxury automotive manufacturer, this is a great practical initiative to invest in the long-term sustainability of our site and a fitting way to acknowledge the end of our centenary year.