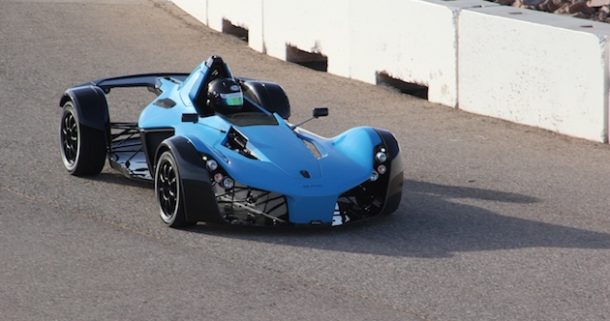 NAA Member News: Briggs Automotive Company (BAC) Officially Launches BAC Scottsdale In Arizona, USA
Briggs Automotive Company (BAC) has officially launched BAC Scottsdale – a new dealership in Arizona headed up by former Major League Baseball All-Star and renowned petrolhead, CJ Wilson…
The new dealership operates out of McLaren Scottsdale, bringing two British supercar heavyweights together in one place across the pond. BAC already has a big presence in the USA in California, and the new location in Arizona adds another string to the Mono creators' bow.
Mono is the world's only single-seater, road-legal supercar that has won awards, broken records and captured imaginations all around the globe, having been exported to 35 territories worldwide… and counting.
CJ Wilson is one of many to have fallen in love with the car instantly, and he'll now run operations finding just five new Mono owners in the States. Scottsdale is the first USA dealership to welcome the Model Year 2018 Mono, and CJ's excitement is clear.
The former MLB All-Star said: "It's with great pleasure that I can declare BAC Scottsdale officially open for business. When I first got into the Mono cockpit, I was absolutely blown away – it provides the ultimate experience for any driving purist, with unrivalled levels of accessibility, pace and poise. There are only five 2018 Model Year Monos coming to Scottsdale, and I'm very much looking forward to finding some very lucky buyers to join one of the most exclusive automotive clubs in the world."
CJ was recently on hand to welcome specially invited guests to a track day at the famous Inde Motorsports Ranch, where they got to grip with Mono and pushed it to its limits alongside like-minded enthusiasts.
CJ himself got inside the cockpit and attacked the circuit, and you can watch his efforts behind the wheel of Mono at Inde in a spectacular, 360-degree video here: https://www.youtube.com/watch?v=s71REloNHkk
BAC's invited clients flew over to Inde in their very own private jets to take part in the test driving event, as they arrived at their first experience of being part of the BAC Family in style.
Neill Briggs, Co-Founder and Director of Product Development, said: "We are absolutely delighted to be opening BAC Scottsdale in Arizona, rubbing shoulders with our British counterparts McLaren and welcoming new friends to the BAC Family. Mono has been a fantastic success in the USA since we headed across the pond, and with this new dealership we can look forward to introducing Mono to an even wider audience and starting a new community."
BAC is also confirmed for the Performance Car Show, 11-14 January 2018, on Stand 19410 at the National Exhibition Centre (NEC), showcasing the 2018 Model Year Mono that includes a whole host of new standard technology – including a lightweight, lithium-ion battery. The 2018 Model Year Mono's arrival at the Performance Car Show is its first ever public showing.