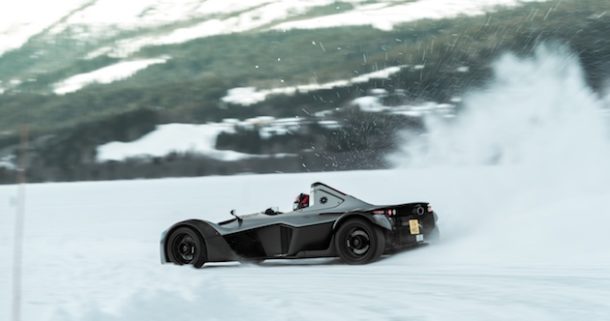 NAA Member News: Briggs Automotive Company launches BAC Mexico & holds the second Mono Ice Driving Experience
Briggs Automotive Company (BAC) has officially launched BAC Mexico – a new dealership in Mexico City to continue its global expansion – as well as celebrating the second running of the Mono Ice Driving Experience…
The new franchise operates out of the capital, Mexico City, and gives BAC an even bigger presence in North America – the Liverpool-based company already has dealer agreements across the USA and in Canada.
BAC Mexico will bring the world's only road-legal, single-seater supercar – Mono – to an expanding and exciting market and attract new clients to an already active and thriving customer base.
BAC founders Neill and Ian Briggs attended the launch of BAC Mexico on a special night in Mexico City, where over 220 VIP guests got up close and personal with Mono.
The covers coming off the One-of-a-Kind supercar was met with a raucous applause from visitors, who were truly wowed by the conceptual brilliance of Mono.
Mono has won awards, broken records and captured imaginations all around the globe, having been exported to over 30 territories worldwide, and BAC Mexico will create even more fans with the distribution of the 2018 Model Year Mono.
The latest addition to the BAC group demonstrates the power and draw of Mono across all four corners, with its unique characteristics and unrivalled driving ability making it hugely appealing to petrolheads far and wide.
Mono is renowned as the ultimate piece of sporting equipment – a tool that has been perfected for the sport of driving and provides an exceptional, totally focused experience as a result.
Neill Briggs, Co-Founder and Director of Product Development, said: "It's with great pleasure that we can declare BAC Mexico officially open for business – continuing our amazing expansion around the world. Mono has been a fantastic success in North America and we can't wait to welcome new friends to the BAC Family. Mexico is home to knowledgeable and passionate supercar enthusiasts, who we look forward to adding to our community."
BAC is also celebrating a hugely successful second running of the Mono Ice Driving Experience, hitting the frozen lakes of Sweden for a high-intensity test in the Mono.
The BAC team with its specially selected clients and enthusiasts mapped out various tracks on the Swedish ice before unleashing Mono on it, resulting in a thorough examination of the most extreme driving against a stunning wintry backdrop.
You can watch the Monos in action and get a feel for life with the BAC family here: https://youtu.be/zJGo-NktpWw
Sub-zero temperatures and truly testing conditions forced guests to push both themselves and Mono to the limit while on the ice, but both came through in spectacular fashion.
BAC takes prides in being more connected with its clients than any other supercar manufacturer and is forever giving back to those who gave the brand its phenomenal stature worldwide.
Being a Mono owner means being part of the BAC Family, a community of like-minded enthusiasts who come together to celebrate a mutual love of driving. And despite coming from different backgrounds and driving skills, BAC's instructors provided expert tuition on the intricacies of Mono ice driving to have them performing like pros.
BAC came away from the Mono Ice Driving Experience having achieved its primary goal: giving its clients and friends the raw Mono experience and having plenty of fun along the way.
BAC Co-Founder and Design Director, Ian Briggs, said: "What a fantastic adventure! The first Mono Ice Driving Experience was an overwhelming success last year, and we took everything about that trip and made it better this time around. Spirits were high for the duration and it was amazing to see our friends getting to grips with Mono on the ice in spectacular fashion. Mono and our drivers were tested thoroughly, of course, but this is the ultimate piece of sporting equipment that simply thrives even in the most extreme conditions. Our video perfectly captures what it means to be part of the BAC Family – having unbelievable fun behind the wheel of Mono but also coming together as one when the helmets are off."
BAC will showcase the Mono lifestyle once again in May this year, when it will take clients to the Isle of Man for a scintillating, no-holds-barred festival of Mono fun.