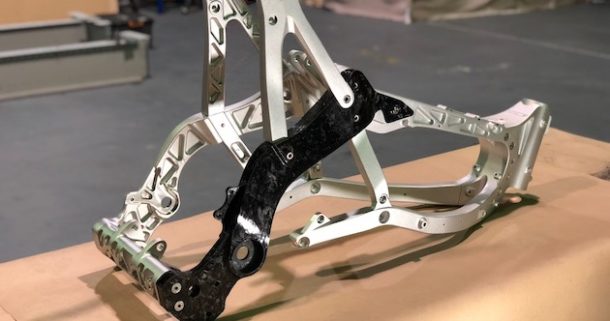 NAA Member News: CCM Motorcycles leads consortium to develop a concept carbon composite motorcycle frame
A consortium led by CCM Motorcycles with partners Far Composites, specialist in design and manufacture of lightweight composite components, and Millbrook, provider of development and test services to transport manufacturers, has completed a project to develop a concept carbon composite motorcycle frame…
The Niche Vehicle Network (NVN) funded Comp-lite project was successful in developing the carbon composite technology and proving it on a motorcycle. The next step is to use the knowledge gained to develop the technology further on the chassis of a full motorcycle.
The project has designed, developed, manufactured and tested a carbon composite frame to be the basis of the new motorcycle platform for the future growth of CCM via individual components, frame sub-assemblies and with limited testing on a motorbike.
This frame replaces the existing 13-piece bonded aluminium frame that is used in the company's current model platform. The frame has minimal component count and optimised shape for strength, stiffness and space envelope constraints.
The outputs from the project are:
a) Concept design and detail drawings for the composite frame, which fits within the available space envelope
b) Mechanical property definition for the composite frame from baseline testing of the current bonded aluminium frame
c) FEA of the composite frame developed from a correlated FEA of the existing bonded aluminium frame to vehicle test
d) Limited run tooling for the composite frame component manufacture
e) Five sets of components for composite frames
f) Four composite frame assemblies
g) One motorcycle assembly
h) Composite frame joint, component, frame & vehicle test data.
The route-to-market is the development of the concept into a validated, homologated platform of three models for the off-road focussed, adventure bike market.
CCM predicts that with its new model range its market share of the adventure bike market in the UK will increase from 0.9% to 1.2% and it will be able to fulfil the demand that it has for its products from export markets.
CCM has always had a lightweight bike compared to the competition, but without CCM developing its own lightweight frame it would lose its USP and its bikes would become less competitive, thereby limiting its growth plans.
The project allowed the team to fast-track its development to get to the proof of concept stage in a short time that wouldn't otherwise be possible without the funding.