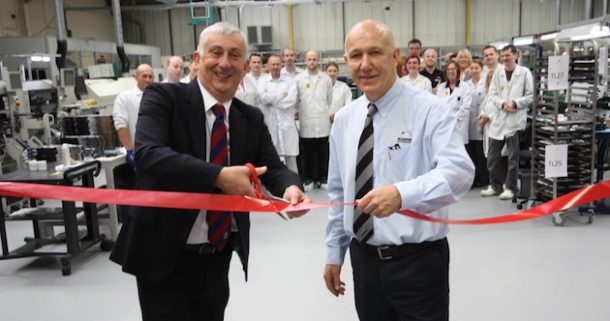 NAA Member News: Deputy Speaker of the House of Commons officially opens Scorpion's new state-of-the-art Manufacturing Plant
On 22nd August, Scorpion commemorated the official opening of its new state-of-the-art production plant with a ceremony conducted by the Deputy Speaker of the House of Commons, Chairman of Ways & Means and Chorley MP, Lindsay Hoyle who was accompanied by Councillor (Astley and Buckshaw), Matthew Lynch…
Lindsay and Matthew were taken on a tour of both Scorpion's HQ and new production sites to learn how the business functioned and to see first-hand its pioneering technologies and the different types of work undertaken. The tour routed through the HQ-based departments of sales and marketing, research and development, harness production, warehouse, technical and 24/7 theft monitoring.
Located a few hundred yards along the same road, the tour continued into the company's new multi-million pound state-of-the-art production site housing its new surface mount technology (SMT), printed circuit board (PCB) production line and a recently expanded team of highly skilled production operatives.
Prior to officially opening the site, Lindsay congratulated staff for their contribution to the company's many recent export successes, quality improvements which continue to build upon its achievements last year in the Northern Automotive Alliance Awards in which Scorpion scooped both the Business of the Year Award and Manufacturing Excellence Award.
The tour was followed by a short presentation from Mark Downing (Managing Director) and Carl James (Head of Marketing & Sales Operations) highlighting the company's recent successes and future plans. This provided a basis of discussion around Scorpion's strategies for continued UK and overseas growth in the context of current economic conditions and Brexit.
After the visit, Lindsay Hoyle MP said: "Scorpion's decision to develop a new manufacturing plant here in Chorley is a real boost for our area and it is re-enforces the fact that the North West is open for business. The region – and indeed Chorley – has a proud record on manufacturing.
Companies realise that Chorley is great place to live, work and play. We're ideally located on the motorway and rail network as a City Gateway with a great work force. Lancashire offers huge benefits without the drawbacks and costs of operating in a large city or in the South of England."
Mark Downing, MD commented: "We're delighted that Lindsay was able to officially open the site and meet with the team here at Scorpion. We're very proud of the work we do and our work force is world class, as we grow and recruit we want to show our commitment to the local economy and our customers."