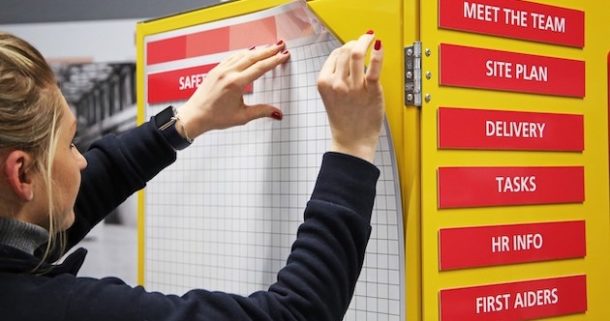 NAA Member News: Does your operation match your brand? Maybe you need The Cube?
MELO, an NAA member, is an established and award-winning leader of Visual Standards in industry…
The company offers a variety of solutions that maximise the potential of running a modern, LEAN facility. Its service consists of design, manufacture and installation of signage and communication products that include customer's specific graphics.
2019 brings a launch of its most versatile and innovative communication solution to date – the MELO Cube
The Cube is the epitome of mobile display solutions, offering a flexible, future proof "communication zone" solution. With handy internal storage space, and magnetic, changeable walls, The Cube provides quick access to information you require and allows for quick communication display adjustments. A great starter product for businesses looking to adopt 5S into their workplace.
Main advantages
Mobile and built to fit through standard door frames
Suitable for office or warehouse environments
Storage for archives, blank forms, PPE storage
Desktop to fill in documents
Interchangeable wall/face
MELO Cube to suit your current process requirement
Bespoke walls and customise texts on magnetic titles
Magnetic document holders in various sizes and colours
Magnetic walls are covered with dry wipe laminate
Company logo and corporate colours printed on walls
Colour coding for zones
MELO CUBE… Organise, customise, optimise.