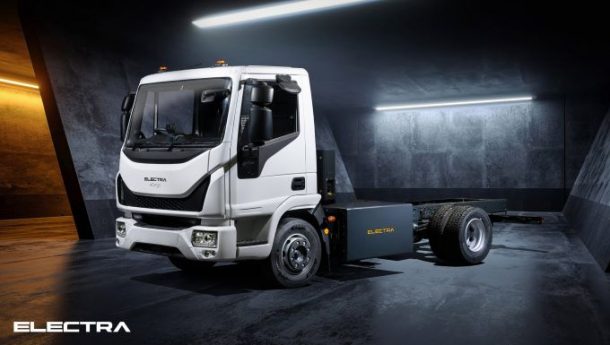 NAA Member News: Electra launches the first compact 12.5-tonne electric zero-emission waste platform fleet in the UK
Electra Commercial Vehicles, the zero-emissions OEM based in Lancashire, has launched its all-new, 12.5-tonne eCargo, electric waste vehicle platform.
These electric vehicles are the first in the industry in their weight class in the UK. They have been designed with an incredibly short wheelbase (3,330 mm), making this a fantastic prospect for operators facing decarbonisation challenges. The truck in this configuration is especially well-suited for food waste collections.
The 12.5-tonne eCargo has been designed with the operator in mind, and Electra revolutionised the layout and configuration to combat downtime and maintenance for operators. Electra's vehicles already have a reduced maintenance requirement and this is combined with a system that enables significant parts to be repaired or replaced in under 15 minutes.
Electra's approach means it can build a platform suited to any operation and application due to the scalable modular configuration. Electra is not tied to just one chassis or body manufacturer, so the customer can create a truck to bespoke requirements.
The 12.5-tonne eCargo features a class-leading payload with a body and allowance of 7,900 kg. With 140 kWh of battery capacity and thermally managed batteries, this truck range can operate in -30- and +50-degree climates, and have a range of up to 250 km, it also has a 150 kW DC fast charge capability, meaning this eHGV can be double-shifted or exceed its range by over 100 miles in under an hour.
Electra's vehicles come with an eight-year battery warranty, and have V2L capability meaning the trucks can charge other vehicles or supply three-phase power for events.
Basildon Council recently acquired the first fleet of seven 12.5-tonne eCargo food waste vehicles fitted with a Hillend Engineering Micro XHD body which go into service in April, provided on a contract hire lease by NRG Riverside.
Electra had initially built a trial 12.5-tonne eCargo on that has been on demonstration for over a year throughout the country with a kerbside recycling body fitted. This proved to be a great success with the operators due to the platform's capabilities and driveability.
Ben Smith, MD, of Electra Commercial Vehicles, commented: "The eCargos are the perfect solution to meet the requirements of the government's new food waste collections regulations nationwide, all with zero-emissions, and a lead-time of under a year.
"We offer strategic solutions for every waste application. We are the first to build electric waste collection vehicles in the 12.5-tonne weight range and size.
"We recognised that the configuration of different body types significantly impacts the truck's size, design, and battery size and layout while also requiring an EPTO – all packed into a very short wheelbase. We are delighted that we can now offer our clients zero-emission trucks suited to small and busy roads in city centres and narrow precincts, ideally suited for the stringent demands of operations in ultra-low emission zones."
Electra builds fully electric and hydrogen-powered vehicles on multiple chassis platforms. The company, founded in 2017, has already produced the first fleets of successfully operating zero-emission HGVs in the UK, improving local air quality truck by truck.