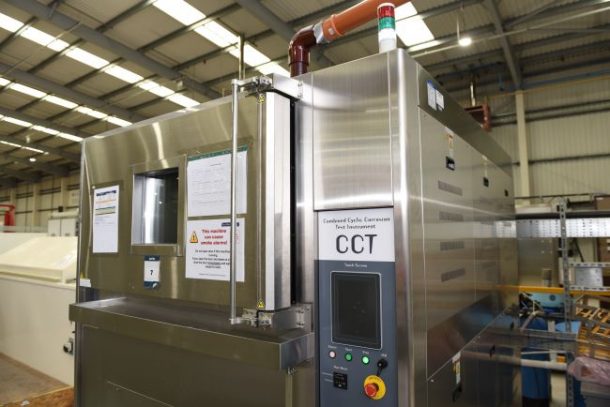 NAA Member News: Element enhances UK automotive testing capabilities in response to latest corrosive environment standard
Element Materials Technology has invested in a SUGA CCT-2LCE combined cyclic test (CCT) chamber to increase its accelerated degradation testing capabilities in response to the latest developments in corrosive environment standards.
Located at its UKAS-accredited automotive testing laboratory in Wednesbury, the new chamber will enhance Element's ability to undertake rapid testing that expertly correlates with a broad range of real-world exposure conditions.
It will facilitate tests in line with a wealth of different standards from both industry bodies and automotive OEMs, including the latest corrosive environment testing standard: VDA 233-102.
Able to simultaneously test up to 96 specimens (up to 150mm x 70mm x 1mm in size) of varying different materials or coatings during any one cycle, the SUGA CCT-2LCE is capable of either constant salt spray, or cyclic salt spray. In addition, the chamber can also be programmed to run all tests at low, ambient and hot temperatures ranging from of -20°C to 70°C and expose the products to humid conditions from 5% to 95%rh (relative humidity).
Crucially, the SUGA CCT-2LCE's ability to run multiple tests rapidly reduces the overall testing time compared to using individual salt spray and environmental units.
While the investment was principally undertaken to enhance the organisation's well-established automotive testing capabilities, it will also enable Element to support customers in the aluminium, steel, marine and rail industries.
Natalie Phelan, Automotive Laboratory Manager at Element Materials Technology, comments: "Degradation testing is a fundamental stage of the research and development process for nearly all metal components used within the automotive manufacturing process. With the latest VDA 233-102 testing standard mandating even further guidance on best practice, Element has invested in a state-of-the-art CCT chamber to ensure we are well placed to support the needs of our customers throughout the automotive supply chain.
"Crucially, the SUGA CCT-2LCE ensures we can run a broad range of real-world exposure tests in both a time and cost-efficient manner. It is our third salt spray machine with cyclic capabilities and due to the breadth of equipment we have onsite, we can typically commence testing rapidly after receiving samples."
Karl Tran, Inside Sales Manager at Element Materials Technology, said: "With the SUGA CCT-2LCE, not only can our automotive customers benefit from quicker turnaround with testing, but it also opens the door to other industries where this type of combined testing may not have been thought possible, such as in marine and rail. Ultimately, customers can save cost and get products out to market much faster."
For further information on Element's full automotive testing capabilities, please visit: https://www.element.com/transportation/automotive
If you are interested in finding out more about what we can do at Wednesbury, please email us at contact.us@element.com