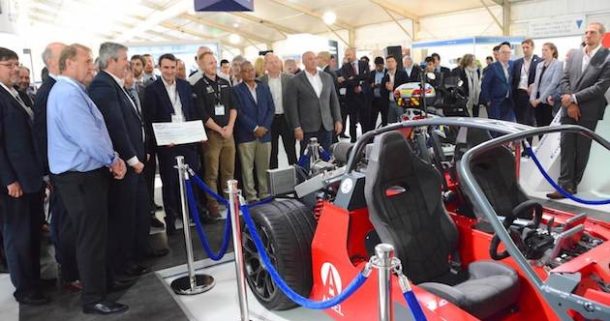 NAA Member News: Four NAA member companies gain NVN funding
A total of four NAA member companies have been successful in obtaining funding from the Niche Vehicle Network (NVN), with the winners being announced at the LCV2017 event…
AJE Powertrain, together with Mathwall Engineering, won funding for a project to research the fuel economy benefits enabled by rapid engine warm up. The project will quantify the potential fuel saving as a result of a reduction in engine friction by using a novel sump design to enable a faster engine oil warm up.
The results will be calculated through the development of a vehicle drive simulation model and this will use a set of input data generated by direct measurement on an engine friction test rig. A concept level hardware mock-up of the oil sump system will be generated to support the subsequent marketing activities.
Also, a consortium led by CCM Motorcycles with partners FAR, a specialist in the design and manufacture of lightweight composite components, and Millbrook (previously CSA Leyland), a provider of development and test services to automotive manufacturers, will develop a concept carbon composite motorcycle frame. The frame will have minimal component count and an optimised shape for strength, stiffness and space envelope constraints; it will replace the current 13-piece bonded aluminium frame. The project will design, develop, manufacture and test the concept via individual components, frame sub-assemblies and with limited testing on a motorbike.
The two projects above shared in a total investment of £3.9 million for low carbon development and demonstration projects in the niche vehicle sector.
In total, thirty projects were successful in receiving grant funding from the Niche Vehicle Network competitions. Paul Gadd, Head of Automotive at Innovate UK, announced the winners at LCV2017.
Other winning projects included:
Development of clean, extended-range tyres for electric vehicles made from advanced natural materials
Development of a novel low-cost, 3-wheeled, multi-passenger, electric vehicle platform
Production of prototype titanium brake calipers, via a low-cost, high-efficiency manufacturing process
Design, development, prototyping and testing of a novel and innovative high specific output 48v electric machine and energy storage system
Development of an autonomous road sweeper using the latest sensor and mapping technology
Design validation and manufacturing process development of air bearings, to deliver oil-free turbochargers
All of the projects will receive 50% of their project costs, and will cover the balance of the project costs with their own resources. All of the projects are collaborative between up to three UK-based companies active in the low carbon vehicle technology sector.
Further details of all successful projects can be found on the Niche Vehicle Network website at www.nichevehiclenetwork.co.uk