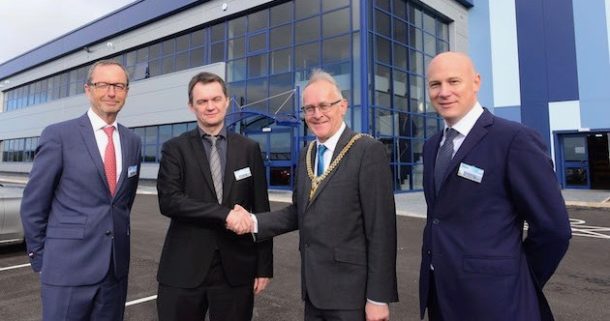 NAA Member News: GEFCO Launches New £10 Million Supply Chain Hub in Liverpool
GEFCO UK, a subsidiary of the GEFCO Group, a global player in industrial logistics and the European leader in automotive logistics, has opened a new purpose-built logistics solutions centre in North West England. The facility, based in South Liverpool, provides storage and sequencing operations for tier one suppliers and OEMs in the region and is expected to create 100 jobs locally…
The centre was officially opened during an inauguration ceremony which took place on 5th October and was attended by Councillor Malcolm Kennedy, Cabinet Member for Regeneration, Transport and Climate Change and Lord Mayor of Liverpool.
Mayor of Liverpool, Joe Anderson, said: "This investment by the global company GEFCO Group is another vote of confidence in Liverpool.
"We are rightly proud of the huge success of the automotive sector in Liverpool City Region and the associated jobs the sector creates. It is among the best in the world, and only by providing the right environment for the surrounding supply chain can we ensure it continues to thrive in to the future.
"This is another boost to Liverpool's ongoing renaissance which is seeing huge investment pouring into the city, helping us compete globally, secure more employment and create a city that can sustain itself."
The new centre, based in Speke, is ideally located in close proximity to automotive manufacturing sites in neighbouring Halewood and will open up opportunities for significant business growth for GEFCO.
The £10 million, purpose-built 12,000m² state-of-the-art sequencing and value added warehouse facility is designed to provide a range of storage, inbound sequencing and outbound transportation services to support the supply chains of GEFCO customers.
The key features and services that are provided by the facility include: inter-sequencing of different suppliers and multi-commodity solutions, simplified and reduced point of fit delivery, live stock visibility, hourly inbound flows to plant, Quality Engineering Assurance (QEA) activity and Right First Time (RFT) sequencing operations.
Zsolt Vecsera, Managing Director, GEFCO UK said: "The opening of this facility represents a major milestone in the growth of our automotive sequencing capabilities and the value added services we can provide to our customers.
"Over the past year we've seen excellent progress both domestically and for the wider GEFCO group, in part due to our enhanced investment policy.
The new centre will enable us to future-proof both the GEFCO business for our customers' growing demands and future requirements and we are delighted to create new jobs and strengthen manufacturing resources in the region".
The new facility represents an integral part of GEFCO's integrated logistics offering, which incorporates flows management, multimodal solutions, logistics engineering and fiscal and customs procedures management. It marks the next step in the development of a blueprint for GEFCO's supply chain excellence programme which will be rolled out in other strategic locations worldwide, notably Slovakia, France and Spain.
GEFCO's warehousing business is operated over 700,000 square metres of space globally, across 59 facilities, employing over 2,400 people worldwide. Its extensive strategic and operational knowledge is essential for the supply of customers' production chains and the distribution to their sites and points of sale.