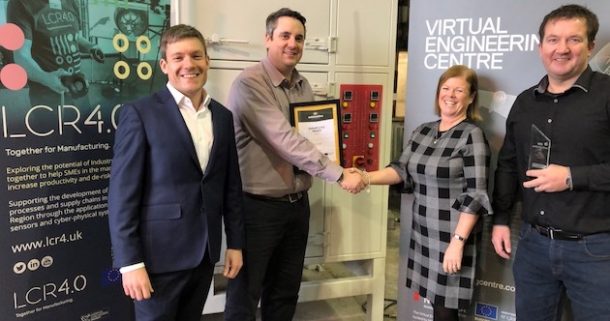 NAA Member News: Genlab – worthy winners of Industry 4.0 Award
Genlab was the winner of the 2018 NAA Industry 4.0 Award, sponsored by LJMU LCR4.0 Project. However, work commitments prevented the company attending the Awards Dinner, so Martina Rodrigues from the NAA visited the to present the Award…
Martina was joined by Andrew Borland, Commercialisation Manager for the LCR4.0 Project (on the photo, names are, L to R, Andrew Borland, VEC; Phil Crompton, Project Manager, Genlab; Martina Rodrigues, NAA; Rick Johnson, Technical and Commercial Manager, Genlab.
For over 50 years, Genlab has designed and manufactured industrial ovens, cabinets and associated thermal products. From Bentley and JLR to the F1 Grid, the company's divisions provide a product range noted for quality, reliability and performance. Genlab supplies products to the automotive sector that range from ovens large enough to accommodate a complete chassis to precision-controlled ovens for heating resins used in windscreen bonding. The company ships products globally and has many longstanding employees who have a combined extensive technical knowledge in their fields to enable Genlab become one of the leading businesses in thermal engineering
Through the ERDF-funded LCR4.0 Project, Genlab has been supported to use simulation to evaluate the efficiency of its current factory layout and processes, thereby identifying the likely effect different changes would have without disruption to the business. This project demonstrated how I4 technologies can be employed to make decisions for change more effectively.
To see how the LCR4.0 Project is helping other SMEs, please take a look here: