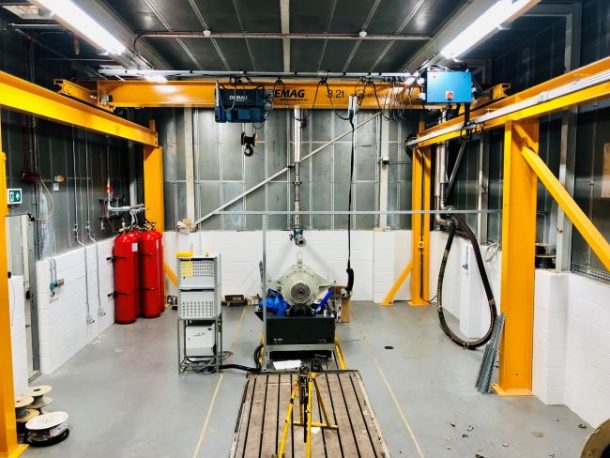 NAA Member News: Helical Technology Technical Centre – New Engine Test Bench
NAA Member, Helical Technology, based in Lancashire, continues to develop its Technical Centre with the construction of a new engine test bench for engines in the range of 2MW power output.
This new test facility, currently under construction at the company's Warton site, is due for completion in early Q4 2021. The Technical Centre was built in the late 1990s as an R&D test centre to support passenger car exhaust system design and development as a Tier 1 supplier to major OEMs such as Ford and Jaguar. Helical Technology acquired the site in 2012 to support its growing valve rotator, actuator and exhaust valve divisions. Helical Technology supplies these components to major OEMs in passenger car, commercial, off-road, rail and marine sectors. The Technical Centre supports Helical's core business test requirements but also offers test facilities to support external customers' testing.
The new engine test bench, housed in a completely new building adjacent to the existing engine test facility, will house a customer's power generation engine which will run solely on Natural Gas. This will take the range of engine test capability in the Technical Centre from single cylinder small displacement engines to multi-cylinder high displacement engines across its twelve engine test benches.
The new test facility will encompass a Schenck D2100 hydraulic dynamometer with a Horiba STARS automation system and a Horiba exhaust emissions bench, as well as the multiple instrumentation devices and systems required to test and develop an engine of this size and cylinder count.
The initial customer for the new engine test bench is also a North-West based company which have had links to large displacement engine design, build and development for a number of years. A combination of the company's knowledge and experience in this field and Helical's experience in providing test services is coming together in the build of this new engine test bench.
The construction of this new engine test bench expands the Technical Centre's existing test facilities, which already consists of twelve engine test cells, two semi-anechoic chambers, one vehicle semi-anechoic chamber with 2WD chassis dyno, multiple shaker vibrator systems with various types of climatic test chambers, and a number of natural gas burner test stands, plus the drive-by noise test track – a testament to the facilities' exhaust system development history.
This considerable new investment by the family-owned company is a demonstration of the commitment to develop and expand the Technical Centre to meet changing customer requirements and its commitment to supporting and embracing new technological developments globally.