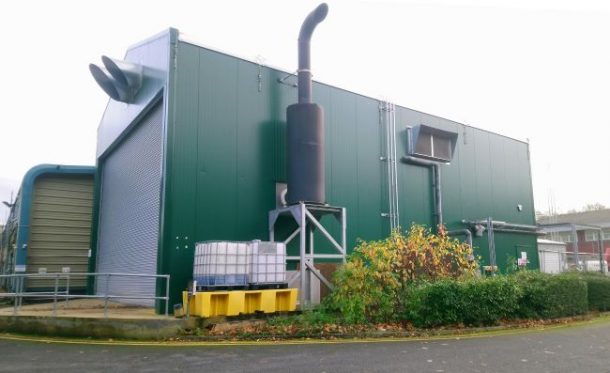 NAA Member News: Helical Technology's new 2MW test bench
In September 2021, the NAA reported on Helical Technology's new 2MW test bench under construction at its Warton Technical Centre. Now just over a year later, the facility is operational and is carrying out development work on a CNG-powered genset engine.
The Warton Technical Centre was originally built in the late 1990s as an R&D test centre to support passenger car exhaust system design and development. Helical Technology then acquired the site in 2012 to support its growing valve rotator, actuator and exhaust valve divisions, supplying components to major OEMs in passenger car, commercial, off-road, rail and marine sectors. As well as meeting Helical's core business test demands, the Technical Centre also provides facilities to support external customers' testing requirements.
The new test facility has been a major project for Helical, and in less than two years has progressed from an empty plot to an operational test bench housing a 2MW engine. This demonstrates Helical's ability to rapidly respond to opportunities and provide the expertise to deliver a high-quality test facility to meet our customers' exacting standards.
Helical also understands that having a good customer relationship is paramount and the 2MW test bench has been designed and commissioned in collaboration with the customer, a North West-based company that is developing a highly efficient new genset engine. Working closely with the customer on this project has been the key to providing a facility that meets the specific demands for developing the customer's product through test work.
To facilitate the test work a wide range of instrumentation has been required, with the test bench accommodating expandable modules including 64 temperature and 40 pressure channels, 9 flowmeters and the most recent addition of a Horiba Mexa emissions analyser.
Helical has worked closely with automotive testing and emissions specialist Horiba to set up the STARS test bed automation system, Schenck D2100 water brake dynamometer and SPARC dyno controller to provide effective control and meet the customer's requirements for the test cell. This has included the set-up of CAN communication between the test bed and engine control system to further expand the data acquisition capability.
The new facility also includes a CNG storage and pressure reduction station to supply natural gas to the test cell at adjustable temperature and pressure. Recently this capacity has been expanded by 40% and a new heating system will be installed by the end of the year as Helical continues to improve its capabilities to meet customer demand.
The addition of this new facility expands Helical's range of engine testing capability, from small displacement single-cylinder engines to the 2MW bench shown here. The site also houses twelve engine test cells, two semi-anechoic chambers, one vehicle semi-anechoic chamber with 2WD chassis dyno, multiple shaker vibrator systems with various types of climatic test chambers, a number of natural gas burner test stands and a drive-by noise test track.
Helical plans to continue the development of Warton Technical Centre next year by adding a further high flow natural gas burner test stand. This will primarily provide additional testing capacity to Helical Technology's Exhaust Flap Valve division that supplies exhaust flap valves to high performance OEM vehicles. The burner test stand will also be available for external customers to hire.
Early next year Helical's Technical Centre will also support the development and build of Helical's fully electric supercar based on Helical's TR Speed 12 supercar. A traditional ICE test cell will be modified to accommodate the Electric Drive Unit of the supercar providing a test facility to aid development. The battery cells, module and pack for the electric supercar will also be tested and built at the Technical Centre using Helical's facilities and expertise. The TR Speed 12 EV supercar is planned to be ready for track trials in spring 2023.