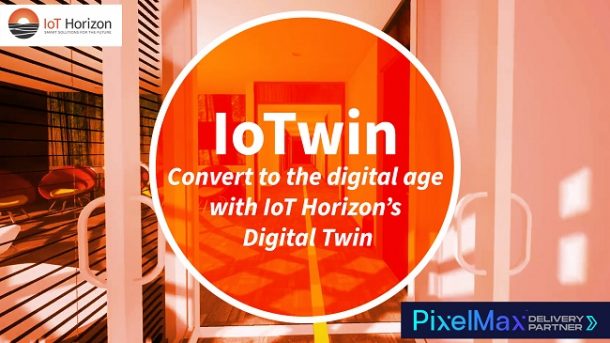 NAA Member News: IoT Horizon launches Digital Twin Platform – IoTwin
A digital twin is the pairing of a virtual and physical world, giving organisations visibility of their facilities and physical assets from any location.
The IoTwin platform enables businesses to create a virtual model of a facility, warehouse or office building. The process involves scanning or modelling an existing facility to create the 'Digital Twin'.
With the Internet of Things (IoT) integration, sensors on the physical asset can also be mapped onto the virtual model, so anyone viewing the digital twin can see vital information on how the physical thing is operating. This real-world data is then represented within a computer-generated environment.
The YouTube video shows a Digital Twin of IoT Horizon's office environment at Sci-Tech Daresbury, with interactive hotspots and embedded video on the screens. It also shows the 3D printer with live-sensor data on temperature, humidity, CO2 and particulates.
IoTwin can help businesses to:
• Promote: virtual factory/facility tours, animated flythroughs, virtual reality experiences and interactive tours.
• Inform: space planning, production workflow simulation, virtual control centre linked to live machine data.
• Educate: bespoke health and safety inductions, virtual staff and new starter training, wellbeing applications.
For more information contact niamh@iothorizon.com