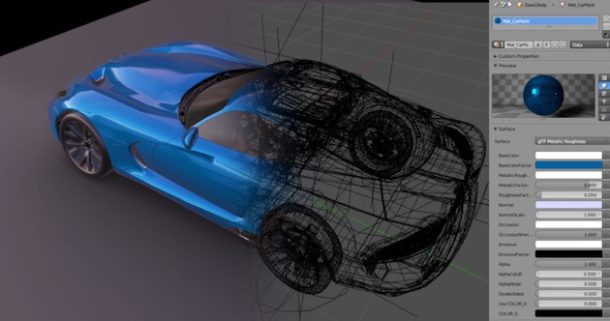 NAA Member News: KDAB – Streamlining 3D automotive development
In-car displays have been steadily increasing in capability since the first electric-blue alphanumeric VFD…
Now, except for basic entry-level vehicles, most cars sport large high-resolution full-colour displays in both the instrument cluster and centre console. Yet despite the significant advancements in display hardware, the software behind automotive interfaces remains a significant challenge to create.
Much of that challenge comes from the perennial disconnect between skillsets and mindsets of the UX designers who speak in terms of wireframes, personas, and storyboards, and the embedded developers who create with bits, bytes, and APIs. UX designers build user interface visuals and mock-ups with tools that let them finely control the visual appearance, however, these tools produce graphical assets that are unfortunately unusable by the code implementing the production interface. That leaves the development team tasked with the non-trivial effort of turning a pile of pictures into a smoothly running and bug-free HMI – with far less hardware and processing power at their disposal.
While a couple of solutions exist that attempt to bridge the worlds of design and development, these have been limited thus far to mostly static 2D images. This is woefully inadequate as automakers attempt to differentiate their user experiences through sophisticated 3D elements. This conflict is compounded by the fact that 3D design and development tools are orders of magnitude more complex than their 2D counterparts. Yet modern automotive designs are demanding 3D models in a big way – for futuristic instrument clusters using physically based rendering, advanced infotainment systems incorporating cameras and augmented reality, and dimensional UX elements that may be rotated or animated.
To fill this huge gap between the 3D design and developer paradigms, KDAB has created Kuesa. While still in the final stages of development, Kuesa makes it possible for UX designers to use tools like 3DS Max or Blender that suit them best. It provides an array of plug-ins to manage 3D models and materials through the entire workflow pipeline. And as the Kuesa development team consists of a number of 3D graphics experts, a great deal of attention has been paid to the meticulous details needed to validate, optimise, and losslessly convert 3D design assets such that they render perfectly in their runtime implementation. Finally, Kuesa allows developers to construct those faithfully reproduced HMIs using Qt 3D code and thus gives access to the wide variety of APIs, libraries, and tools necessary to create a polished final product.
KDAB will be posting a variety of blog articles as this project comes to fruition. You can learn more at https://www.kdab.com/expertise/3dgraphicsandcompute/kuesa