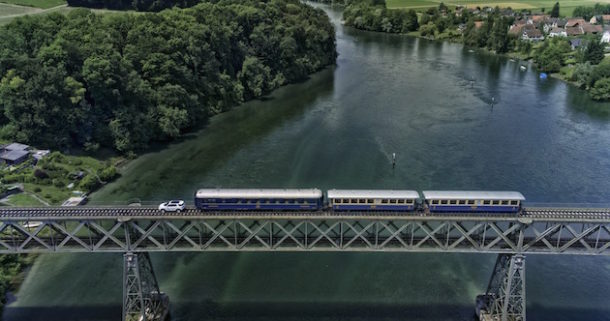 NAA Member News: Land Rover Discovery Sport Pulls 100 Tonne Train
Ripon-based road-to-rail 4×4 conversion specialists Aquarius Railroad Technologies fitted rail wheels to an otherwise standard Land Rover Discovery Sport which towed three train carriages weighing more than 100 tonnes along a railway track…
The 10km journey through the Rhine region of northern Switzerland put the compact Discovery Sport's pulling power to the ultimate test. Though the Discovery Sport has a certified maximum towing weight of 2,500kg (2.5 tonnes), it was able to pull 60 times its own weight, powered by Jaguar Land Rover's 180PS Ingenium diesel engine.
The vehicle's drivetrain remained unchanged; the only modification being the fitment of rail wheels by specialists Aquarius Railroad Technologies, to act as 'stabilisers'.
The Discovery Sport completed the impressive pull without the aid of a low-range gearbox, instead using its state-of-the-art nine-speed automatic gearbox and Terrain Response technology to generate the necessary traction. Land Rover's All Terrain Progress Control (ATPC) system was also engaged at the press of a button during the tow, to maximise traction at a set speed. Acting much like a 'low-speed cruise control', ATPC allows the driver to focus on the road – or in this case the railway – ahead.
The train-pulling feat was undertaken on 10km of track at the Museumsbahn Stein am Rhein in Switzerland, crossing the River Rhine on the dramatic Hemishofen bridge – a historic steel span measuring 935 feet long and soaring 85 feet above the valley floor.
Land Rover has a history of rail conversions, from the days of the Series II and IIA Land Rover to the various Defender models that have been modified to run on rails for maintenance, and the notable launch of Discovery I in 1989. The latter saw a converted Discovery towing a series of carriages in Plymouth to demonstrate the capability of the new 200Tdi diesel engine.
British road-to-rail 4×4 conversion specialists Aquarius Railroad Technologies fitted the rail wheels to the otherwise standard Discovery Sport. Managing Director James Platt, said: "For a vehicle of this size to pull a combined weight of more than 100 tonnes demonstrates real engineering integrity. No modifications were necessary to the drivetrain whatsoever and in tests the Discovery Sport generated more pull than our road-rail Defender, which is remarkable."
The premium compact Discovery Sport SUV is sold in over 170 markets and manufactured at Jaguar Land Rover's award-winning Halewood plant in the UK.
James Platt founded Aquarius in 1999 after he identified a gap in the UK rail infrastructure market for quality Land Rover road-to-rail vehicles. Since then Aquarius has established itself as a market leader providing quality four-wheel drive Road Rail Vehicles for track maintenance in the Rail industry. The company has continued to grow and now has a fleet of specialist road-to-rail vehicles that are provided on hire throughout the UK.