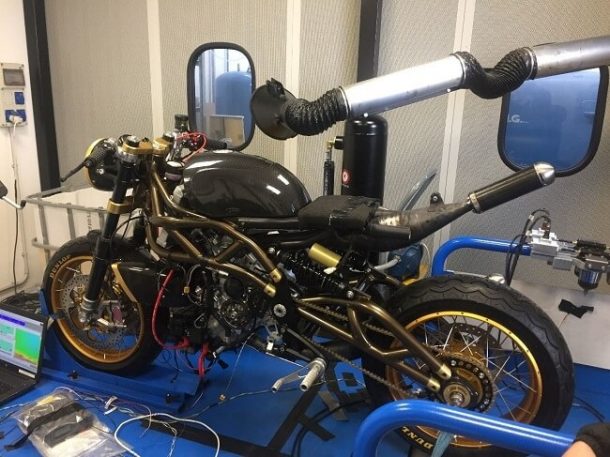 NAA Member News: Langen Motorcycle Two Stroke Model
Langen Motorcycles is excited to be able to share the latest stage of development work going into preparing the 250cc Two Stroke model for production…
The all-new Langen Two Stroke is making great progress as it heads towards the initial run of production bikes for the first customers, with road testing and dyno fine-tuning nearing completion.
Langen Motorcycles, the newly-created British firm which is headed up by former CCM Chief Design Engineer Chris Ratcliffe, first revealed the Two Stroke model in July 2020. The Langen Two Stroke is a high-end motorcycle costing £28,000 + VAT and each bike can be personally tailored to the owner's wishes.
Engine set-up is being carried out by the Italian company Vins Motors, which has designed and built the 75bhp two-stroke engine which is also used in their own sportsbike. Chassis set-up is all being done in-house at Langen. The Vins V-twin engine is housed in a bespoke Langen chassis, with the modern twist on a café racer tipping the scales at just 114kg.
Work has been continuing ever since the first reveal to the public, which also saw a host of customers placing orders for the 250cc two-stroke.
Langen founder Chris Ratcliffe said: "Getting a bike ready for road testing and engine fine-tuning is an important milestone. It's been a lot of work to get where we are today, and the various Covid lockdown changes have been an extra challenge too. Hearing from Vins to say the engine and chassis are working well together has been fantastic news for all of us and we can't wait to get bikes into production and ready for the first customers."
Vins CEO and founder Vincenzo Mattia is in charge of the work being done to ensure the Vins engine suits the Langen bike and is set-up perfectly for customers.
He said: "The test session with the Langen motorcycle gave me the opportunity to fine tune something very different from our own Vins motorcycle. The different wheel dimensions and final ratio forced the Vins staff to approach the ECU mapping session with particular attention paid to power delivery. This was part of a big effort to optimise acceleration and driveability.
"The most interesting thing was the result of the road test which went really well and followed several dyno sessions. Power delivery was predictable each time, as was the roadholding and handling, which is thanks to the very good chassis and suspension design of the Langen itself. It's also a very light motorcycle, so the match between Langen and Vins is a real thing, with fun and thrills as a result of the ride and lightness as a common feature.
I've personally done all the road and dyno tests of the bike, and I can confirm not only the fun factor, but also the high quality of the product made by Langen."
For more information, contact info@langenmotorcycles.co.uk