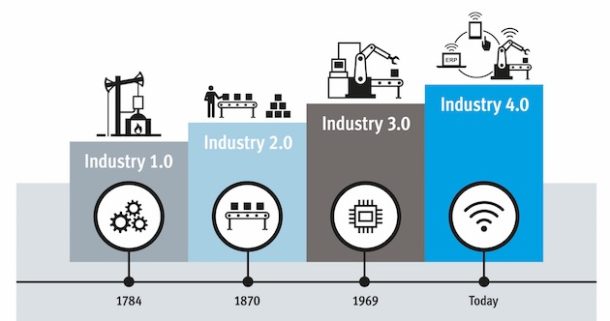 NAA Member News: Lean manufacturing and its future in Industry 4.0 by Festo Training and Consulting
It is often said that modern lean management was pioneered with Toyota in Japan. So it's right that the principles should be very well embedded in the automotive sector. While in many cases this is certainly true, there are changes coming that will alter our approach to manufacturing. Some have said that Industry 4.0 could mean the end of lean manufacturing. However, we don't believe this to be the case…
Like many aspects of production and management, lean manufacturing is a continuous process of improvement and refinement. New technology, new systems, processes, and new theories mean that this is one task that can never be crossed off the list.
That list is about to get a lot longer with the impending changes brought about by Industry 4.0 and the Internet of Things. This time we need to look to Germany to find the seat of innovation. As a German company, Festo has been closely involved and is one of four industry representatives on the steering board for the German Federal Government's high-tech strategy.
Industry 4.0, while bringing about revolutionary change to the way we manufacture vehicles, could be seen as the ultimate in lean manufacturing. Intelligent machines that are self-aware and can communicate with each other, will improve processes and reduce waste. Automation challenges can be solved by machinery themselves, improving efficiencies and maintenance requirements. Microsystems will make decisions autonomously and highly sensitive robots will support employees so that they can continue to work, even in their later years, improving the levels of skills and retention in manufacturing.
As Professor Wolfgang Wahlster, Professor of Computer Science, CEO and Scientific Director of the German Research Center for Artificial Intelligence (DFKI), says, "The ability of machines to understand a given situation will result in a whole new level of quality in industrial production."
We know that Industry 4.0 is coming. We know there's going to be a revolutionary change to how we procure, manufacture and supply automobiles to the trade and the public. We are not always this lucky to have the ability to forward plan.
And plan we must. As businesses we hopefully can see the benefits of Industry 4.0 and lean manufacturing. However, we should not discount the reactions of our employees and those that we work with.
Automation has not always had the best reputation with employees. Neither has lean manufacturing and now we're talking about machines being able to achieve a lot of what was previously done by people in our automotive factories.
We should not bury our head in the sand. We should not try to explain away what is happening. Instead, we need to prepare our businesses, our employees and ourselves for a new future.
Industry 4.0 requires a new type of leadership. Leadership 4.0 looks at the leadership capabilities and qualities that will be required in the automotive factories of tomorrow. There are five key changes to the environment that are changing the direction of leadership in the future.
1. Competition
Disruptive technology can cause young and innovative companies to gain market traction, quickly eroding market dominance of larger players who are slower to react.
Faster, younger, dynamic organisations are constantly emerging to challenge the authority of market leaders. New technologies and new ways of manufacturing, producing products and services, are breeding new types of organisations.
Leadership 4.0 means spotting and reacting quickly to new competition on the horizon.
2. Hierarchy
The structures of today will not suit the companies of tomorrow. Dr. John Kotter wrote in a Harvard Business Review  article that we must not limit ourselves by thinking that organisations need to have a hierarchical structure.
In fact, research exists to demonstrate that hierarchy inhibits transformation because at a philosophical and practice level, hierarchy opposes change. He says, "In a world with an ever increasing rate of change, it is impossible to thrive without timely transformations."
Leadership 4.0 needs to free up the decision-making process to maximise new opportunities, while keeping clear communication flowing throughout the organisation.
3. Technology
Industry 4.0 means that machines will be able to control their own production and logistics. It connects physical machinery and systems with the Internet.
Machines will be able to interact with their environment. They will plan and adapt their own behaviour to suit. They will learn new behavioural patterns and strategies to be self-optimising. They will allow even the smallest of batches with rapid product changes and a large number of variants, to be produced efficiently.
Leadership 4.0 needs to harness the talents of individuals who can fully explore, utilise and maximise on new technological advancements.
4. Hyper connectivity
We are now used to being constantly connected. With Industry 4.0 we have to take another giant leap. We have to recognise that machinery will always be on, always connected, making decisions without our intervention, optimising our production and managing all of the logistics.
For machines to communicate with each other, and for people to interact with machines, a new and standardised language is required. The Internet will be the communication platform in the factory. This is termed the Internet Protocol.
Leadership 4.0 means becoming proficient to take advantage of the opportunities of hyper connectivity.
5. Transparency
Facing a new and different future is a challenging prospect. Managing change of this nature requires communication at a whole new level because people will be fearful of what the future holds.
For leaders this means containing their anxiety and keeping the focus on achieving the organisation's objectives. Because the future will likely be uncertain, it will mean communicating when we don't have all the answers. For leaders that's a particularly frightening prospect.
Leadership 4.0 places open and honest communication at its heart – just as it is at the heart of any change project.
Industry 4.0 will alter the very trajectory of automotive manufacturing and engineering. Driving change through a business in a way that makes us agile, with people and the organisation willing to adapt, is the new challenge. And this change will mean continuing to adopt the principles of lean manufacturing and preparing for Industry 4.0.
By Neil Lewin, Festo Training and Consulting