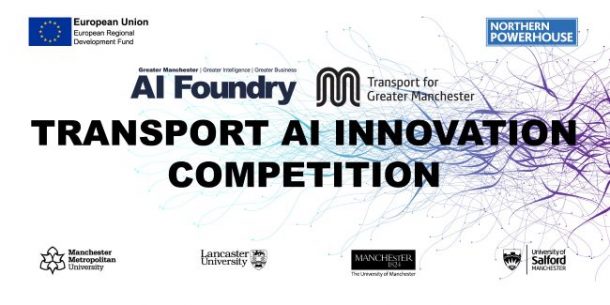 NAA Member News: MMU – TfGM Intelligent Transport Competition
An innovation AI Competition for businesses keen to adopt cutting-edge AI to overcome Transport for Greater Manchester (TfGM) challenges.
About this event
Can Artificial Intelligence help TfGM manage its transport network more efficiently, providing better information on journeys across Greater Manchester?
Are there tools that predict congestion and increased traffic flows whilst automatically alerting operators to incidents or unplanned events across the transport network?
Could you help to provide solutions to TfGM's traffic management challenges as we move towards the next generation of traffic management systems?
Help TfGM explore Intelligent Transport Systems
We're inviting small to medium-size businesses (SMEs) to bring their innovative thinking to solve one of three challenges posed by TfGM, related to AI policy, ethics, and engagement!
You will be given one of three scenarios and asked to create innovative solutions to a challenge by harnessing AI.
How to get involved?
Simply get together a team of 2 – 5 members from your business and register to take part!
If you're signing up as an individual, we'll group you with other individuals so that you can form a team to take part.
Who can take part?
Although our competition is with Transport for Greater Manchester, it's open to all SMEs – you don't have to be based in Greater Manchester.
Your knowledge and expertise might be in the field of artificial intelligence or it might be in transport and logistics.
Please note: If your business is not based in the Greater Manchester region and you win the challenge, you will not be eligible to join the Greater Manchester AI Foundry programme and receive fully funded research and development support.
For full details and to register click here