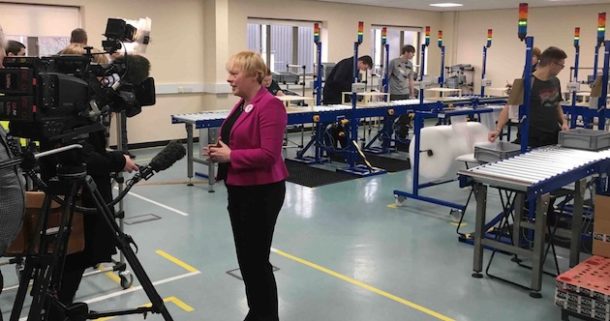 NAA Member News: New Simulator Demonstrates Lean Deployment
Training consultancy KZN Solutions has unveiled its 'interactive simulation of a Lean logistics and manufacturing facility' which has been built within the new Northern Logistics Academy (NLA) in Merseyside…
It has been developed by the KZN Solutions consultant engineers to accurately provide a scaled down logistics and production facility and picking and packing line. The emphasis being on 'learn by doing' within a non-threatening working environment.
Michael Bainbridge, managing director of KZN Solutions said: "Our simulator is aimed at training process stabilization, fundamental skill and Lean deployment.
"The activity is flexible so as to meet the needs of any industry. It can be designed in complete accordance within any type of operating methods and workshop management principles.
"We have developed a set of dexterity tools which focuses upon the achievement and management of creating operational stability and the achievement of 'Right First Time Every Time'. The simulator accurately reflects a production line and had has hundreds of variations. Each production run compromises of mixed model variant, cycle time analysis, takt variation, schedule smoothing and understanding the complexities of demand management.
"The analysis of each production run includes data calculation in the areas of safety, quality, cost, delivery and people. Each key performance indicator is measured and used as a financial benchmark to compare again the competition within the market place."
The Lean Tools are introduced in a systematic way which allows any person, from an apprentice right through to the board room level, to experience through practical activity how Lean is used as an enabler for organisational success and competitiveness.
The simulator has already hit the headlines having been used as the backdrop for the Liverpool Metro Mayor campaign launch.
Visit www.kznsolutions.co.uk for further information