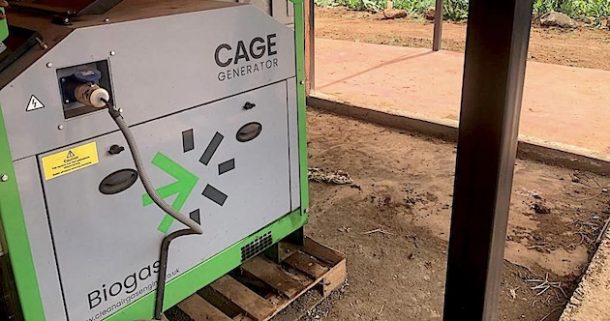 NAA Member News: OakTec's CAGE Technologies showcases its technology at Kenya Innovation Week in Nairobi
CAGE Technologies Ltd (CTL), the company set up to commercialise the clean gas engine technologies developed by OakTec, was invited by the Foreign, Commonwealth & Development Office (FCDO) to showcase its technology at Kenya Innovation Week in Nairobi in December.
The main CAGE product featured at the three-day event was the novel biogas generator currently on trial on five farms in Kenya. These 6kW machines power the farm machinery, lighting and IT.
Biogas is produced by the simple expedient of feeding cow muck into big plastic bags that create anaerobic digestion and the generator is plugged into the bag producing clean, efficient power. The farmer makes significant savings by not needing to purchase petrol or diesel and, where available, on grid electricity which is very costly.
These machines have the same air quality benefits as the CAGE engines trialled in the UK construction sector where exhaust emissions measured by Imperial College London showed a 95% reduction in health harming gases and particulates when compared to a new Stage V emissions compliant diesel machine of equivalent output.
Highlights of the week were a visit to the CTL stand by Kenyan President William Ruto and a trip to one of the farms trialling the technology where the machine has worked daily for 18 months.
CTL founder Paul Andrews commented "It was a really interesting trip and great to finally see our machines on the ground and working so well. These were developed during lockdown with Innovate UK funding and it is only now that we have had a chance to see them in action. The farmers absolutely love them because they are reliable and save them a lot of money."
"Meeting President Ruto was slightly surreal and unexpected. He was genuinely interested in the technology and we later found out that he owns a large poultry farm. Maybe we should send him a brochure and price list!!"
More CAGE biogas machines have now been sold to India, Africa and Latin America and recently the first machine has been installed on a UK dairy farm.