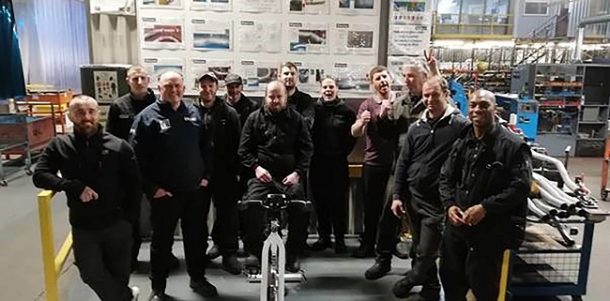 NAA Member News: Over £15k raised by Klarius for Dougie Mac Hospice
The Klarius Group of Companies has raised over £15,000 in support of Douglas Macmillan Hospice (Dougie Mac) in 2020… Read more
A vital local charity for Stoke-on-Trent, North Staffordshire and the surrounding area, Dougie Mac provides specialised care to support people with life-limiting illnesses free of charge. The funds raised by Klarius will help the hospice to continue these essential services.
Mark Brickhill, CEO at Klarius, is proud of his team's efforts: "We have undertaken a number of fund-raising initiatives throughout 2020 in support of Dougie Mac, so I am overjoyed that we have reached this level of donations.
As a business, we believe it is exceptionally important to provide opportunities and support to the local community. I would like to personally thank everyone who has donated and helped champion this most worthy of causes."
Providing care services to over 3,500 people over the age of 16 annually, Dougie Mac relies on the work of professionals, volunteers and fund raisers. Specialising in caring for patients with diseases where there is no available cure, the organisation also delivers social care to ensure emotional support for families.
Comprising Klarius Products, the UK's largest manufacturer of aftermarket exhausts; Emissco, a leading manufacturer of fluids and aerosols; KM Tools, a specialist builder of production machinery and AutoLogistiks, an automotive logistics provider – the Klarius Group of Companies in Cheadle has undertaken fund-raising activities across all its brands in 2020. This despite numerous events being cancelled due to the pandemic.
Before lockdown, employees from all brands took part in a sponsored exercise bike ride to Wembley, with participants from multiple departments all taking turns to complete the full distance. The initial target of 143 miles was totally eclipsed, with the team managing to cover a massive 443 miles, enough to return back to Cheadle and reach Wembley a second time.
As well as pledging 5% of future dispenser and hand sanitiser sales to the charity, Emissco also donated a hand sanitiser dispenser with sanitiser for the hospice reception to help keep visitors, patients and volunteers safe.
Klarius also sold Dougie Mac raffle tickets and scratch cards when possible, while signing up to the charity's weekly lottery and taking part in its Christmas Jumper day. Along with the fundraising, employees provided a large amount of clothes and goods to be sold in the Dougie Mac charity stores.
Natalie Parry, Management Accountant at Klarius notes: "It's been really tough to fund raise in 2020 due to the pandemic, with several planned events having to be cancelled. Despite this, I'm proud of the fact that we have raised more in the second year of our Community Programme than we did in 2019. I'm sure that, post-Covid, we will be able to do even more."
Donna Adams, Head of Fundraising and Lottery at Dougie Mac, comments: "We can't thank the fantastic Klarius team enough for their support during 2020. Through their Bag it Bring it initiative, Christmas Jumper Day fundraiser and Dougie Mac lottery memberships, Klarius have helped raise over £15,000 to help continue our specialist end of life care services for our patients and support services for their families. In what has been an incredibly challenging year for everyone, Klarius has continued to go above and beyond to help raise funds for Dougie Mac and support their local community."
Support Dougie Mac
Any Emissco hand sanitiser dispenser or hand sanitiser purchase is eligible for a 5% donation to Dougie Mac. Quote DougieMac5 when purchasing from the Emissco customer service team at info@emissco.co.uk or 01538 493138 or enter at checkout via the Emissco online shop https://emissco.co.uk/shop. The offer is valid until October 2021.
To see how you can support Dougie Mac, please visit https://www.dmhospice.org.uk