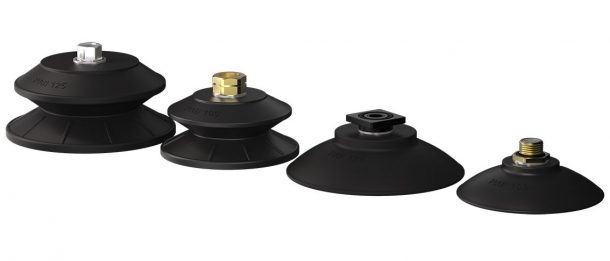 NAA Member News: Piab extend its range
Four new cups are now added to the Automotive suction cup series. The new cups extend the PAF (Piab Automotive Flat) and PAB (Piab Automotive Bellow) families with two new sizes each – Ø100mm and Ø125mm.
The automotive suction cups support industry standards as to dimensions and interfaces and simplify deployment and installation. However, these suction cups are just as useful for applications outside the automotive sector. And now even more so thanks to our new 100 mm and 125 mm cups.

Both the new and previous assortment are made of 60 shore (A) silicon free Nitril-PVC creating a durable hence cost-effective product. The automotive suction cups have friction cleats to withstand shear forces during operation. All models come with a molded-in aluminium insert, to enable either dedicated fitting solutions or any Piab equivalent including our quick-connect system T-slot. The automotive suction cups are designed to operate even at low vacuum levels to guarantee a safe "vacuum reserve" for any lift.
Find out more here