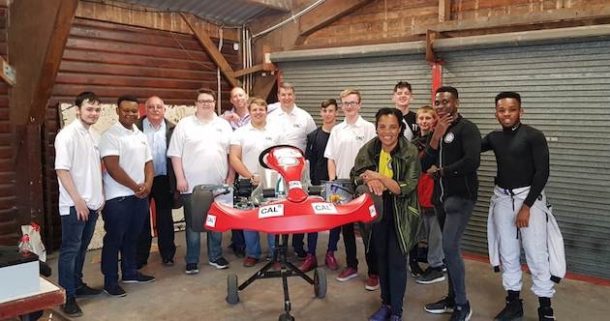 NAA Member News: ProtoEV Electric Go Kart Racing Gets MSA Green Light!
The UK's first electric go kart STEM competition, which was developed by two NAA members, has been approved by the Motorsports Association as a motor club in its own right after a successful pilot in July…
It means a new development series will go ahead this autumn with full blown championship racing by 2020 with the aim of creating a new supply chain for the UK's low carbon propulsion development and production. The prototype ekarts will be on display at the world's first Zero Emission Summit taking place at the Birmingham NEC on 11 & 12th September.
Engineering, manufacturing and technology companies are being sought who would like to enter teams of apprentices in the development and engineering design of working prototypes, which are then tested and validated on the race track in competition with others – as well as companies who would like to sponsor school or college teams as part of their marketing spend.
ProtoEV is a STEM innovation challenge for 15-18 years old students and apprentices who are tasked with converting used petrol go karts into fully electric high powered ekarts which compete to see which is the fastest and most energy efficient. Combining both mechanical and electrical engineering, ProtoEV aims to create a step change in vocational training and skills development.
The ProtoEV Challenge is the idea of Manchester-based tech education specialists The Blair Project, backed by a number of development partners including CAL International, specialists in design and testing of automotive concepts, who, with the Blair Project, are members of the Northern Automotive Alliance. Other partners include NIS Integrated Engineering, RS Components, Carbon Performance, Salford University and Blackburn College.
ProtoEV aims to engage and inspire young people to pursue careers or apprenticeships in engineering and technology and/or progress them into further or higher education. Run over the course of eight months, student teams get to test and demonstrate their knowledge, skills and capabilities to deliver continuous performance improvements that can outperform the competition using a total of three test days and one competition day, in addition to training workshops for teachers, lecturers and project leads.
Teams will practice using a common solution approach to design and innovation using physics, generative design, 3D printing, mechanical engineering, electronics engineering, energy efficiency and storage, aerodynamics and budgetary factors to design and build working prototypes using existing standard kart chassis.
Blair Project CEO Nile Henry (22) said "There is a serious shortage of young people going into tech and engineering in the UK and the current school curriculum is not geared up to address it. We're trying to plug that gap, by providing a project-based learning activity that gives young people the hands on, practical experience and life skills that employers want.
"We're also developing a video gaming and immersive augmented reality simulation platform to support rapid prototyping of virtual ekarts, and make learning fun, attractive and engaging. It will establish new levels of standardisation and access with significant global growth opportunities".
Cliff Kirby, CEO CAL International, commented "The ProtoEV project really does capture how the UK Engineering sector needs to engage directly with the next generation and focus the imagination, and the art of the possible. Such a simple concept really did bring out the best in everybody involved. As was experienced on this project, engineering solutions pose many challenges, but the satisfaction in watching the ekart perform around the track for hours on end really does make it worth it."
Lee Fogg, Technical Director – CAL International, added: "This has been a great experience for all involved. In real times the team have had to overcome design, manufacture and test problems against a completion date that at times felt near impossible. We are incredibly proud to be associated with the ProtoEV project. We very much look forward to working with the Blair Project on this exciting journey."
ProtoEV will be scaled up as a North West wide championship in 2020 with plans to roll it out into London, Birmingham, Edinburgh and Cardiff, and then export it into the USA the following year as a potential feeder series for Formula E.