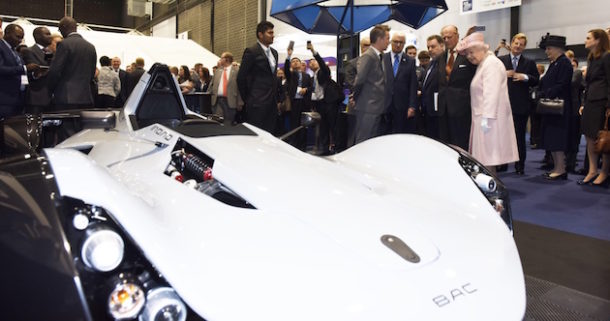 NAA Member News: The Queen meets BAC as part of Liverpool International Festival for Business
The team at BAC has played host to a very special guest, with Her Majesty the Queen meeting the team and getting up close with the company's single seater supercar, the Mono…
Her Majesty was visiting Liverpool to meet the key companies and people involved with the International Festival for Business, which ran in the city from 13 June to 1 July.
Neill Briggs, BAC's co-founder and Director of Product Development, and Duncan Lee from BAC Hong Kong represented the company at the reception, with Neill introducing Her Majesty to the Mono and showing her around the car.
The Queen was very impressed with the single-seater supercar, and, in a private conversation with Neill Briggs, said how it was wonderful to see a car that was so different. She was also delighted to see such a remarkable car that had been designed, created and made in Britain. As a memento of her day, BAC was pleased to present Her Majesty with a Mini Mono – a scale model replica of the car.
Neill Briggs said: "It was a real honour to meet the Queen and represent BAC and the city of Liverpool at the International Festival for Business. I was especially proud to show Her Majesty the Mono on behalf of all our colleagues and employees in all 25 of our markets around the world.
"The city of Liverpool is a place that is very dear to our hearts, and we are proud to be part of its flourishing business community. This is a truly special day for me and for the company, and one that we will remember for years to come."
The Queen and the Duke of Edinburgh were visiting Liverpool to visit the International Festival for Business (IFB), formally open the Pullman Liverpool hotel before visiting Alder Hey Children's Hospital.