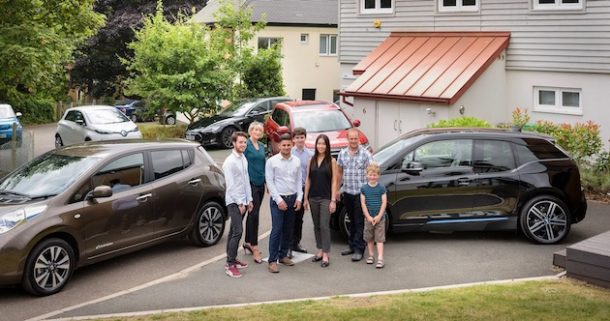 NAA Member News: Record Year for Energy Tech Company EA Technology
Energy tech company EA Technology, which is managing the world's largest electric vehicle trial 'Electric Nation', has celebrated record sales for the year end March 2017. Topping £26 million, the Cheshire-based energy technology company saw orders increase by over 50% across nearly all of its global markets…
EA Technology is a world leader in consultancy, products, services and training courses which enhance the performance, reliability, safety, efficiency and cost-effectiveness of power networks. Its customers include companies involved in electricity transmission, distribution and generation, together with private companies that operate power networks.
EA Technology is bridging the gap between automotive and energy, with projects such as Electric Nation. This trial is recruiting 500-700 electric vehicle drivers to test smart home charging technology that aims to allow the increased uptake of EVs. The project is currently ahead of schedule in recruiting trial participants.
Having had a record year, EA Technology is now in an ideal position to further benefit from the significant changes currently underway in the energy sector. Tied in with this, the company has launched an all-new website, at www.eatechnology.com
The carbon and air quality agendas, the cost of energy, and new technologies are accelerating the rate of change in the energy market, providing big commercial opportunities for companies capable of changing quickly. Electric vehicles, electric battery storage and local generation of energy through wind turbines, solar and biomass are transforming the energy landscape.
Homes, businesses and whole districts are increasingly in a position to ask if they can become more self-sufficient in meeting their energy needs. As smart meters create a deeper understanding about the opportunity to switch demand to low cost periods, so behaviours are changing. Linking a local wind farm with a major energy consumer can now be more cost-effective through the deployment of battery storage.
Two groundbreaking new collaborative projects that EA Technology is delivering with Western Power Distribution are creating huge interest in the industry. In addition to the 'Electric Nation' project, the 'Open LV' project is developing technology that will provide open data from low voltage substations that can be used by a range of people and organisations, including local communities, to help keep energy bills low and to introduce decentralised, lower carbon energy.
And the 'Foresight' project, recently launched with Northern Powergrid, seeks to evolve low voltage networks into 'state-aware, self-healing' energy systems with far greater reliability and safety.
Robert Davis, CEO of EA Technology, comments: "These projects are really exciting, not least because they offer the opportunity to push the boundaries with two of the leading network companies in the world. But we are also gaining competitive advantage with our core services and products, such as partial discharge solutions, which are now being taken up by more and more industrial operators seeking peace of mind with their high voltage systems."
Having the most creative engineers and accelerating the rate of innovation are two of the key reasons behind EA Technology's growth last year, both in the UK and globally, and the company is now offering a new service: investing in bright ideas for innovate technologies and setting up new commercial models with its customers.
Even Brexit has had a positive impact on EA Technology. Robert continues: "A weaker pound has meant our products and services have been more competitive globally. Our margins have increased, profitability has grown, and our share of market is increasing. We are also growing our presence in international markets including America, India, China and South East Asia."
EA Technology has recently entered a new chapter in its history – which spans over 50 years – by coming to an arrangement with its pension scheme, a legacy from the days of national ownership. The company no longer carries the pension scheme, instead it has been transferred to a loan repayment and an equity share in the company. "This arrangement is a win-win for everyone involved" explains Robert. "The model we have arrived at should be adopted by other companies with pension issues. We are now stronger than we've ever been and as a result our opportunity to support our customers in achieving their objectives has never been better."
EA Technology has launched an all-new website which showcases its consultancy, products, services and projects, as well as its Power Skills training courses. For more information visit www.eatechnology.com